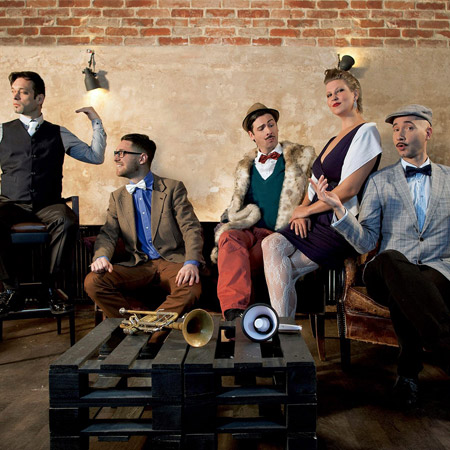 5 Piece Gypsy Swing Band
Stylish and energetic gypsy swing band will get the whole room dancing and singing along
Vibrant and eclectic gypsy band play a unique mix of traditional gypsy music with influences from modern dance music, American jazz and hip hop
Charismatic jazz band are natural entertainers and their fun, wry stage shows will put a smile on any face
In-demand swing band have toured all over Europe, opened shows for big international acts and appeared at renowned festivals like Le Grand Soufflet
Sensational vintage band based in Slovenia and available for performances across Europe
5 Piece Gypsy Swing Band PHOTOS
Book this swinging and stylish gypsy band for a raucous and groovy good time at your event. This amazing gypsy swing band guarantee to deliver a night of fun filled music that will pack the dance floor and give every guest a delightful taste of authentic vintage style. This vintage band will thrill any audience with their suave, sophisticated look and their unique brand of gypsy and jazz music. This jazz band deliver an entertaining set of original music that combines European gypsy swing with American styles and a wide range of influences including electronic music and even hip hop, creating a unique and infectious brand of dance-ready numbers sure to thrill any crowd. Guests will be hooked by every song from this amazing swing band and their loveable comedic personas will put a smile on every face.
This fabulous gypsy swing band is taking their homeland of Slovenia by storm with their unique and stylish music and fun, charismatic performances. Our gypsy band have performed at renowned festivals like Le Grand Soufflet and have opened for major international acts as well as touring and performing in venues, clubs and festivals all over Europe. For their latest album our swing band even worked with the Slovenian Symphony Orchestra and this adventurous and talented band are always looking for new ideas and sounds to shake up their audiences.
The fantastic band of entertainers that make up our jazz band are all superb musicians and their electrifying and energetic performances will win over any audiences. Their incredible mix of traditional swing sounds and modern sensibilities, as well as their exuberant performances and wry humour are sure to make this vintage band a hit wherever they perform.
Scarlett entertainment features a great selection of gypsy music in modern and traditional styles. 
To book our 5 piece gypsy swing band or another of out fantastic acts don't hesitate to contact our team.