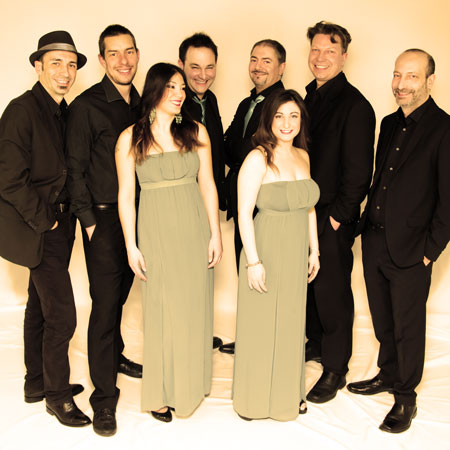 8 Piece Swing Jazz Band
Fantastic jazz band will create lively soundtrack for your special occasion
8 piece musical ensemble with 4 professional musicians and 4 vocalists
Repertoire of original arrangements promises you exceptional live music entertainment
Ideal for parties, weddings, corporate functions, festivals, gala dinners, etc.
Swing band available to hire for events in Varese and across Italy
Guaranteed to bring sophistication and class to your event and make it a highly memorable experience for everyone, our phenomenal jazz band provides the perfect soundtrack for a range of occasions. Live music entertainment at its finest, this 8 piece swing band is comprised of an equal number of professional musicians and talented vocalists, leading to dynamic and original vocal and instrumental arrangements that will delight your guests. A sensational musical ensemble, this act will not disappoint.
Striving to provide musical excellence at every opportunity, this wonderful jazz band demonstrates an infectious energy and an undeniable passion for performing, and will deliver a brilliant sound to your special occasion. Tailoring their set to match your event, our accomplished musical ensemble cater to a range of tastes, and will create just the right ambience for your celebrations with a refined repertoire that will be enjoyed by all.
Highlighting the beauty and enchanting nature of a wide variety of the most famous Italian melodies and arias, this accomplished swing band bring their own distinctive style to an eclectic selection of classics, and will delight your guests with their customised arrangements which feature a brilliant blend of jazz and swing rhythms. An impressive fusion of vocals, saxophone, piano, double bass, and drums, our musical act are sure to have universal appeal at your occasion.
Professional musicians through and through, our skilled ensemble will leave listeners with lasting memories, and are ideal for private parties, weddings, cocktail receptions, corporate events, festivals, gala dinners, ceremonies and more, and are available to book for events in Varese and throughout Italy.
Popular with both private and corporate events, jazz bands are a great entertainment option. As global specialists, here at Scarlett Entertainment we can provide such acts to perform at occasions all over the world, as well as countless other musical ensembles and plenty more besides. For more information on the live music entertainment we can supply for your event, contact our co-ordinators today.