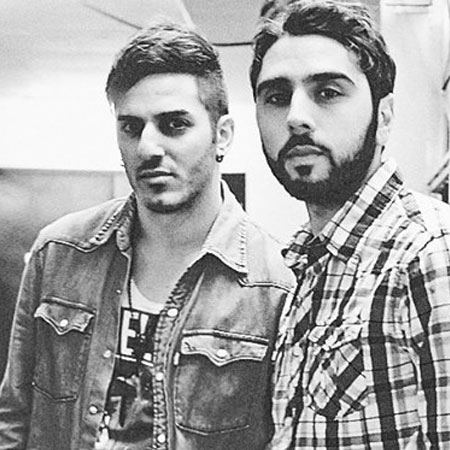 Acoustic Covers Duo Canada
Lively acoustic performances will bring fun & laughter to your event!
Repertoire covers hundreds of songs from all genres & eras
Have played sold out arenas as well as private events, clubs & pubs
Previous clients inc. EXP Consulting, Equifax & Gatsteel Inc.
Based in Canada & available to perform at events worldwide
This musical duo has spent years on the road playing original music across North America. From sold out arenas and touring with huge bands like Kiss and Bon Jovi, to playing intimate sets at pubs and clubs and private events, this duo are no strangers to events of all kinds and audiences of all sizes!
Their passion for playing acoustically really shows in their performances, as with cheeky grins and guitars in hand they take to the stage – or area of the floor as it may be! Fun to watch and to listen to, this duo have a proven track record of entertaining audiences of all ages and make sure that everyone takes their turn on the dance floor and sings along!
With a repertoire that spans hundreds of songs from across the genres and ages, featuring classics by the likes of the Beatles and Elvis, they can create bespoke set lists for each and every event ensuring that yours is extra special!
Whatever your event; a wedding reception, corporate function, private party, summer festival, be sure to book this incredible duo!
Elvis
Bon Jovi
Bryan Adams
The Temptations
Johnny Cash
Garth Brooks
The Eagles
Train
Guns N Roses
AC/DC
Aerosmith
The Beatles
CCR
Oasis
Pearl Jam
Kings of Leon
Alan Jackson
Roy Orbison
Van Morrison
Stevie Ray Vaughn
The Rolling Stones
The National Golf Club of Canada
Equifax Canada
Gatsteel Inc.
EXP Consulting Company
" [they] rocked my Margaritaville themed 50th birthday bash in Markham!… All one hundred plus guests enjoyed the music and many of course complemented you two directly and asked for your cards. I HIGHLY recommend this acoustic duo for anyone who wants to put on a great event and we plan on having you back for what hopefully will become an annual summer party at our place! "

George Schnarr - July 6th, 2013
" I hired [them] as entertainment for my work Christmas party and the night turned out so great! [they] were the perfect entertainment choice for our party. They had such a great setlist that catered to everyone, which couldn't have been easy since the age of the party ranged from 22 - 55. We will definitely be having them back next year! Thanks so much! "

Amanda Paul - February 2nd, 2013
" [they] played at my husband's 40th birthday party at our home in September 2013. From the moment I made contact with them I knew they were going to be a hit. We had guests ranging from 20 to 50 years of age and everyone loved their music. They were fun, charismatic, engaging and really, really good. They made all my guests feel comfortable and even allowed some of them to join in on the singing to fulfil their rock star dreams! We even had neighbours who weren't invited tell us how much they enjoyed the music. Regardless of the type of event you are hosting, this duo will fit in. Dan and Danny are the kind of professionals you want to hire and who's talent you truly admire. I wish we could have them back every weekend. "

Leigh Bonnis - September 28th, 2013