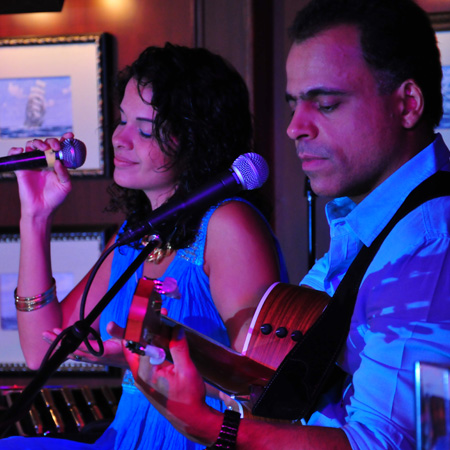 Acoustic Covers Duo Sao Paulo
Brazilian duo consist of a stunning female singer & a talented guitarist
Previous clients include Princess, Celebrity and P&O cruise lines
Fluent in English & Portuguese with a huge list of international hits
Performed at hotels in China such as the Crowne Plaza and OCT East
Based in Sao Paulo & available to perform at events worldwide
Acoustic Covers Duo Sao Paulo PHOTOS
Get that 'unplugged' sound with this amazing acoustic covers duo!
Sao Paulo based Aline and Henrique have been partners as musicians for over a decade. During that period the acoustic duo have performed onboard cruise ships and at 5 star hotels and nightclubs throughout Brazil and abroad. Princess, Celebrity and P&O cruise lines are among the companies the duo have worked with, whilst they can count hotels in China such as the Crowne Plaza and OCT East on their extensive list of previous clients.
Fluent in English and Portuguese, the acoustic cover duo perform a huge list of international hits.
ALL NIGHT LONG (Lionel Richie)
ACHY BREAK HEART (Garth Brooks)
ALL THAT SHE WANTS (Ace of Base)
AT LAST (Etta James)
AQUARELA DO BRASIL (Gal Costa)
ÁGUA DE BEBER (Tom Jobim)
ADIOS LE PIDO (Juanes)
BESAME MUCHO (Cesaria Evora)
BACK ON THE CHAIN GANG (Pretenders)
BAD GIRLS
BLUE SUEDE SHOES (Elvis Presley)
BLAME IT ON THE BOOGIE (Michael Jackson)
BRICK HOUSE (The Commodores)
BLACK OR WHITE (Michael Jackson)
BELLIE JEAN (Michael Jackson)
BEAT IT (Michael Jackson)
BOOT SCOOT BOOGIE (Brooks & Dunn)
BRASIL PANDEIROS (Novos Baianos)
BRASILEIRINHO Novos Baianos)
BALANCA PEMA (Jorge Benjor)
BESAME MUCHO
CAN'T HELP FALLING IN LOVE WITH YOU (Elvis Presley)
COME AWY WITH ME (Norah Jones)
CRAZY A LITTLE THING CALLED LOVE (Queen)
CAN'T BUY ME LOVE (Beatles)
CAN'T TAKE MY EYES OFF OF YOU (Frankie Valli)
CLOSE TO YOU (Burt Baccharat)
CELEBRATION (Kool and the Gang)
COULD YOU BE LOVE (Bob Marley)
CRUISIN (Huey Lewis & Gwyneth Pawtrow)
COUNTRY ROADS
CRAZY (Willie Nelson)
CRAZY (Gnarls Barkley)
CORAZON ESPINADO (Santana)
CONGA / 123 (Gloria Estefan)
CARALUNA (Bacilos)
CORCOVADO (Tom Jobim)
CHEGA DE SAUDADE (Tom Jobim)
CHICA CHICA BOOM CHIC (Carmem Miranda)
CARA VALENTE (Maria Rita)
DYER MAKER (Led Zepplin)
DON'T GET ME WRONG (Pretenders)
DAY TRIPPER (Beatles)
DE PIES A LA CABEZA (Mana)
DO YOU WANNA DANCE (Johnny Rivers)
DON'T WORRY BE HAPPY (Bob McFerrin)
DREAM A LITTLE DREAM OF ME (Ella Fitzgerald)
DON'T KNOW WHY (Norah Jones)
DESAFINADO (Tom Jobim)
DANCA DA SOLIDAO (Paulinho da Viola)
DE NOITE NA CAMA (Marisa Monte)
DREAM A LITTLE DREAM OF ME (Carpenters)
EVERY LITTLE THING SHE DOES IS MAGIC (The Police)
EVERY BREATH YOU TAKE (The Police)
EVERYTHING I NEED (Men at work)
ELEVATION (U2)
EASY LOVER (Phill Collins)
EMOTION (Bee Gees)
ELVIRA (The Oak Ridge Boys)
FEVER
FLY ME TO THE MOON
FROM ME TO YOU (Beatles)
GIRLS JUST WANNA HAVE FUN (Cindy Lauper)
GIRL I WANNA MAKE YOU SWEAT (UB40)
GIVE IT UP
GOT TO BE REAL (Cheryl Lynn)
GOT MY MIND SET ON YOU (George Harrison)
GROOVE'S IN THE HEART (Dee Light)
GUAJIRA (Santana)
GUANTANAMERA
GAROTA DE IPANEMA ( THE GIRL FROM IPANEMA) (Tom Jobim)
HAVE YOU EVER SEEN THE RAIN (Credence)
HERE COMES THE SUN (Beatles)
HEY SOUL SISTER (Train)
HOT STUFF (Donna Summer)
HANDS CLEAN (Alanis Morrissete)
HIT THE ROAD JACK (Ray Charles)
HUMAN NATURE (Michael Jackson)
HOTEL CALIFORNIA (Eagles)
I HEARD IT THROUGH THE GRAPEVINE (Credence)
I FEEL GOOD (James Brown)
IT'S TOO LATE (Carole King)
ISN'T SHE LOVELY (Stevie Wonder)
I JUST CALLED TO SAY I LOVE YOU (Stevie Wonder)
I HEARD IT THROUGH THE GRAPEVINE(Marvin Gaye)
I LOVE THE NIGHTLIFE (Alicia Bridges)
I STILL HAVEN'T FOUND WHAT I'M LOOKING FOR (U2)
I CAN'T STOP LOVING YOU (Van Halen)
I SHOT THE SHERIFF (Bob Marley)
IS THIS LOVE (Bob Marley)
I LOVE ROCK IN ROLL (Joan Jett and Blackhearts)
I CAN SEE CLEARLY (Jimmy Clief)
INBETWEEN DAYS (The Cure)
I WILL SURVIVE (Gloria Gaynor)
I'M A BELIEVER (Neil Diamond)
ISSO AQUI O QUE E (Ary Barroso)
JAMBALAYA (Carpenters)
JUST MY IMAGINATION (The temptations)
JOHNNY BE GOOD (Chuck Berry)
JOLENE (Dolly Parton)
KISS (Prince)
KING OF PAIN (The Police)
KILLING ME SOFTLY (Roberta Flack)
KNOCKING ON HEAVENS DOOR (Bob Dylan)
LAYLA (Eric Clapton)
LADY IN RED (Chris De Burgh)
LOVE ME DO (Beatles)
LA BAMBA (Richie Vallen)
LET'S STAY TOGETHER (Marvin Gaye)
ANOTHER ONE BITE THE DUST (Queen)
LET ME TRY AGAIN (Paul Anka)
LIGHT MY FIRE (The Doors)
LIVIN LA VIDA LOKA
LE FREAK (Chic)
LADY MARMELADE (Labelle)
LISTEN TO THE MUSIC (Dobbie Brothers)
LA ISLA BONITA (Madona)
LA VIDA ES UM CARNAVAL (Celia Cruz)
LA CAMISA NEGRA (Juanes)
LA BOMBA (Rick Martin)
LA BARCA (Luis Miguel)
LET's GET LOUD (Jennifer Lopez)
LILAS (Djavan)
LIVIN LA VIDA LOKA (Ricky Martin)
MUSTANG SALLY (Wilson Picket)
MONEY FOR NOTHING (Dire Straits)
MY GIRL (Temptations)
MESSAGE IN A  BOTTLE (The Police)
MERCEDES BENZ (Janis Joplin)
MAN I FEEL LIKE A WOMAN (Shania Twain)
MAMBO ITALIANO (Rosemary Cloney)
MARIA (Rick Martin)
MAS QUE NADA (Jorge Benjor)
MAGAMALABARES (Marisa Monte)
METAMORFOSE AMBULANTE (Raul Seixas)
NIGHT FEVER (Bee Gees)
NAO VA EMBORA (Marisa Monte)
NEVER CAN SAY GOODBYE (Jacksons 5)
NOBODY KNOWS YOU WHEN YOU'RE DOWN AND OUT (Eric Clapton)
O BEBADO E O EQUILIBRISTA (Joao Bosco)
OYE COMO VA (Santana)
OWNER OF LONELY HEART (Yes)
OUT OF REACH (Gabrielle)
OBLADI OBLADA (Beatles)
ONE LOVE (Bob Marley)
OUR DAY WILL COME (Ruby & the romantics)
PAGU (Maria Rita)
PLAY THAT FUNKY MUSIC (Wild Cherry)
PROUD MARY (Credence)
PLEASE PLEASE ME (Beatles)
PIECE OF MY HEART (Janis Joplin)
PAIS TROPICAL (Jorge Benjor)
PRIDE (U2)
PUTTIN' ON THE RITZ (Ella Fitzgerald)
QUIZAS
QUANDO QUANDO QUANDO (Michael Buble)
QUE MARAVILHA (Jorge Benjor)
RAINDROPS KEEP FALLING ON MY HEAD (Burt Baccharat)
ROSANA (Toto)
ROCK ROBIN (Jacksons 5)
ROCK AROUND THE CLOCK (Bill Haley)
ROCK WITH YOU (Michael Jackson)
RESPECT (Aretha Franklin)
RED RED WINE (UB40)
REHAB (Amy Winehouse)
SEXUAL HEALING (Marvin Gaye)
SEX MACHINE (James Brown)
SATISFACTION (Rolling Stones)
SWAY
STAND BY ME (John Lennon)
SAVE THE LAST DANCE TO ME (Michael Buble)
SWEET DREAMS
SPIRITS IN A MATERIAL WORLD (The Police)
SHAKE YOUR BODY (Michael Jackson)
SUPERSTITION (Stevie Wonder)
SIGNED SEALED DELIVERED I´M YOURS (Stevie Wonder)
SEPTEMBER (Earth wind and fire)
SET FIRE TO THE RAIN (Adele)
SIMPLY THE BEST (Tina Turner)
SMILE (Chaplin)
BAD GIRLS (Donna Summer)
SHOOK ME ALL  NIGHT LONG (ACDC)
SAY A LITTLE PRAYER (Burt Baccharat)
SWEET DREAMS (Eurythmics)
SUNDAY MORNING (Marron 5)
SAUDADE DE OCE (Fabio Junior)
SABER AMAR (Paralamas do Sucesso)
SUAVEMENTE (Elvis Crespo)
SMOOTH OPERATOR (Sade)
SAMBA DE VERAO (Sergio Valle and Marcos Valle)
SÁ MARINA (Ivete Sangalo)
SIMPLES DESEJO (Luciana Mello)
SMOOTH (Santana)
TAKE IT TO THE LIMIT (Eagles)
TENESSE WALTZ
TEQUILA
TILL THERE WAS YOU (Beatles)
TWIST AND SHOUT (Beatles)
THE GAME OF LOVE (Santana)
THAT´S THE WAY (KC and the Sunshine Band)
THEM BELLY FULL (Bob Marley)
TURN THE BEAT AROUND (Gloria Estefan)
TU VUO FA L'AMERICANO
TABACO Y CHANEL (Bacilos)
UNCHAIN MY HEART (Ray Charles)
VOLARE (Gipsy King)
VENUS (Bananarama)
XODO (Dominguinhos
WALK ON BY (Burt Baccharat)
WE WILL ROCK YOU (Queen)
WAITING IN VAIN (Bob Marley)
WE JUST DON'T CARE (John Legend)
WAKA WAKA (Shakira)
WAVE (Tom Jobim)
WILL YOU STILL LOVE ME TOMORROW
WONDERFUL TONIGHT (Eric Clapton)
YOU GOTTA BE (Des'ree)
YOU'VE GOT A FRIEND (James Taylor)
YESTERDAY (Beatles)
LET'S TWIST AGAIN (Chubby Checker)