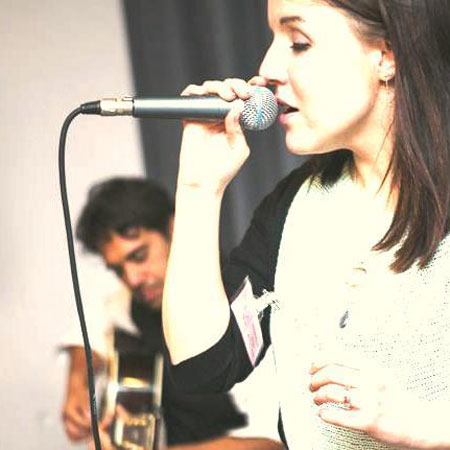 Acoustic Covers Rome
The perfect live acoustic music for your wedding in Italy
Performed on National Italian TV and radio stations
Repertoire sung in five languages consists of pop to rock to R&B and blues
Award winning duo were chosen as the winners based on couple's satisfaction and positive reviews
Based in Rome and available to perform at events across Italy
Acoustic Covers Rome VIDEOS
Acoustic Covers Rome PHOTOS
Get that 'unplugged' sound with one of our amazing acoustic covers acts!
Based in Rome this duo can provide the perfect live acoustic music during your wedding in Italy (wedding aperitif and/or cut of the cake and after party). The duo are the result of the joint collaboration between stunning Anglo–Italian singer Dee Bee and talented acoustic guitarist Fabrizio.  The Band has performed on National Italian TV and their first acoustic album has been played on major national radio stations.
Their repertoire sung in 5 languages (English, French, Spanish, Portuguese, Italian) consists of pop to rock to r'n'b and blues.  The versatile duo can perform a choice of songs that have a special meaning to the couple.
Our duo's music services won an award in the Wedding Awards based on Couple's satisfaction and positive reviews. Our duo were chosen as the winners from over 41,000 Wedding Services Suppliers!
To book our award winning acoustic covers act or for more information, contact our Entertainment Specialists today!
Acqua e Sale - Adriano Celentano e Mina
Ainda Bem - Vanessa Da Mata
Ain't no Sunshine - Eva Cassidy
All My Life - KC & Jo Jo
All of Me - John Legend
Amami Amami - Brusco
American Boy - Estelle
Amore Disperato - Nada
Angel - Sarah Mclachlan
Angels - Robbie Williams
Apareces Tù - La Oreja de Van Gogh
At Last - Etta James
Back to Black - Amy Whinehouse
Beautiful - Christina Aguilera
Beautiful Surprise - India Arie
Billie Jean - Michael Jackson
Blue Jeans - Lana del Rey
Blue Suede Shoes - Elvis Presley
Boa Sorte - Ben Harper & Vanessa Da Mata
Breakfast in America - Supertramp
Broken - Elisa
Californication - Red Hot Chilli Peppers
Candy - Paolo Nutini
Che coss'è l'Amor - Vinicio Capossela
Cherry - Amy Winehouse
Cupid - Sam Cooke
Daydream - Soul Revolution
Dima - Zaho
Due Destini - Tiromancino
Dream On - Aerosmith
Drops of Jupiter - Train
E.. - Vasco Rossi
Estate - Negramaro
Eye in the Sky - Alan Parsons Project
Falling - Alicia Keys
Get Back - The Beatles
Geografia - La Oreja de Van Gogh
Goodnight - Soul Revolution
Happy - Pharrell Williams
Have you ever seen the rain - Creedence Clear Water Revival
Hello - Lionel Richie
Hey Ho - Lumineers
Hit the Road Jack - Ray Charles
I Choose You - Sara Bareilles
I Belong to you - Lenny Kravitz
I Got a Woman - Ray Charles
I Want to break free - Queen
If I Ain't got you - Alicia Keys
Il Mio Canto Libero - Lucio Battisti
Il Paradiso - Patty Bravo
I'll be - Edwin McCain
I'll fly with you - Sagi Rei
I'm Yours - Jason M'raz
I've got you under my skin - Frank Sinatra
If you want me - Marketa Iglova
Imagine - John Lennon
In My Place - Coldplay
Infinite Volte - Giorgia
Io ti prendo come mia sposa - Baglioni
Ironic - Alanis Morrisette
Insieme - Mina
A te - Jovanotti
Kif'n'dir - Zaho
Killing me Softly - Roberta Flack
L'emozione non ha voce - Adriano Celentano
La Cura - Battiato
Lately - Stevie Wonder
Life for rent - Dido
Life is beautiful - Noa
Light my Fire - The Doors
Long Train Running - Doobe Brothers
Love is a losing game - Amy Winehouse
Mama Do - Pixie Lott
Marry You - Bruno Mars
Mean to Me - Soul Revolution
Mentre tutto scorre - Negramaro
Meraviglioso - Negramaro
Mercy - Duffy
Mezzogiorno - Jovanotti
Mil Pasos - Soha
Monkey Man - Amy Winehouse
My Baby just cares for me - Nina Simone
My Favourite Mistake - Sheryl Crow
My Immortal - Evanescence
My Love - Justin Timberlake
Não me deixe só - Vanessa da Mata
Neverending story - Limahl
Ordinary People - John Legend
Paparazzi - Lady Gaga
Poker Face - Lady Gaga
Primavera - Marina Rei
Proud Mary - Creedence Clear Water Revival
Quizas Quizas Quizas - Osvaldo Farrés
Rainbow - Elisa
Rehab - Amy Winehouse
Rock around the clock - Bill Haley
Rolling in the Deep - Adele
Sally - Vasco Rossi
Sarah The Bride - Soul Revolution
Someone like you - Adele
Somewhere over the Rainbow - Israel Kamakawiwo'Ole
Smells Like Teen Spirits - Nirvana
Sitting on the Dock of a Bay - Otis Redding
Stand by me - Ben E. King
Stronger than me - Amy Winehouse
Sunrise - Norah Jones
Superstition - Stevie Wonder
The Girl from Ipanema - Astrud Gilberto and Stan Getz
(Garota de Ipanema)
The Swan - Elisa
This is the Life - Amy Mcdonald
Torn - Natalie Imbruglia
Tudo Diferente - Maria Gadù
Under The Bridge - Red Hot Chilli Peppers
Una carezza in un pugno - Adriano Celentano
Valerie - Amy Winehouse
What the world needs now - Burt Bacharach
While my guitar gently weeps - Beatles
Wish you were here - Pink Floyd
Wouldn't it be nice - Beach Boys
Yo No Se Mañana - Luis Enrique
You never can tell - Chuck Berry
You're in My Heart - Rod Stewart
Je te promets - Zaho