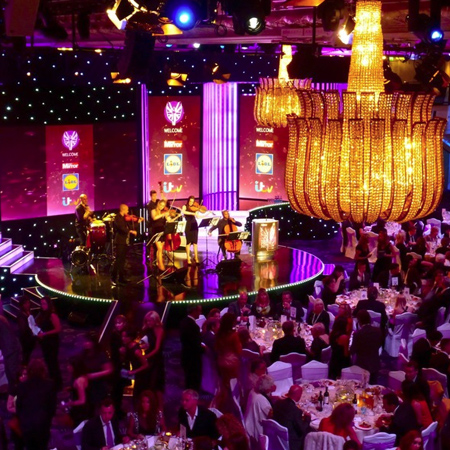 Acoustic Ensemble
Acoustic ensemble adds a unique twist to the traditional string quartet
Create a beautiful, organic sound perfect as instrumental background music
Available as a 6 or 11 piece orchestra, with or without amplification
Have a 3 hour repertoire to choose from, which is constantly updated
Based in London and available to perform at events worldwide
The Acoustic Ensemble adds a unique twist to the traditional string quartet by adding percussion and bass to create a beautifully organic sound. They are perfect as instrumental background music for a corporate drinks reception, during dinner or as informal wedding reception music, covering both modern and classic tracks.
The sets are played on acoustic instruments with gentle amplification that does not intrude upon guests' conversations. For a special ambience, the Acoustic Ensemble can perform without amplification for boutique venues and select guest list events. Unamplified performances are recommended for events with less than 40 guests.
The Acoustic Ensemble creates the ideal environment for business events, providing relaxing background music for lunches, networking events, conference or seminar receptions and team meetings. For weddings, the orchestra add a romantic touch of live string ensemble for a wedding ceremony, and elegant entertainment for the drinks reception.
They are available to perform in two sizes, an original 6 piece ensemble, or an 11 piece ensemble. The latter has a large ensemble look and sound, and features a double string quartet plus two percussionists and double bass. Both formats have over 3 hours of repertoire to choose from, which is constantly updated. Recent additions include the beautifully anthemic 'One Day Like' This by Elbow and the poignant 'Blowers Daughter' by Damien Rice.
They have also recently expanded their orchestra to include a male or female vocalist with the option of keyboards. This line up has proved to be extremely popular for events looking for a more mellow atmosphere, but still wanting a vocalist to perform for guests.
Jaguar
IBM
Chivas
Skype
Pride of Britain Awards
Monaco Grand Prix
Tommy Hilfiger
And Many More
HSBC
Mercedes-Benz
Audi
Regal
Google
London to Paris Bike Ride
Cannes Film Festival
Ministry Of Sound
Landrover
" A huge thank you to you and your amazing team. Wow, the musicians exceeded my expectations and completely got the mood of the evening. It was perfect and I hope someday to be able to use you for another event, if one should arrive. Sheer perfection and a delight to work with. "

Justin Evans, Client Services Manager, Highgate Private Hospital, December 2013