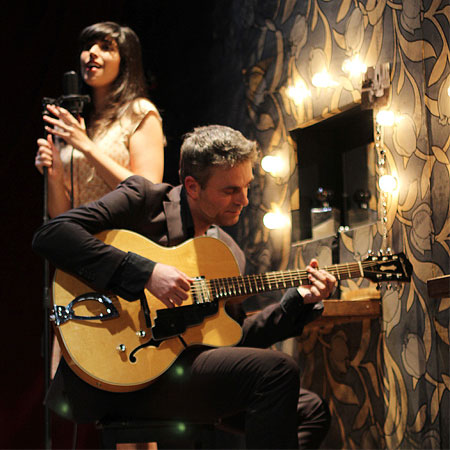 Acoustic Jazz Duo
French singer and acoustic guitarist duo offer a unique international sound
Can provide upbeat background music as well as danceable sets
Repertoire inc. a mix of classical French songs and international pop and jazz favourites
Perfect for weddings, special occasions, drinks receptions and corporate events
Book our Acoustic Jazz Duo for events in France, Europe and worldwide
Our French acoustic duo, comprised of a vocally stunning French language singer and acoustic guitarist, are a cover duo not to miss. Available to perform international pop, favourite French songs and appear as a jazz duo, their versatility allows them to fit themselves seamlessly into any setting.
Possessing an individual sound and quiet sophistication, our French acoustic duo's cover performances are totally unique as each song is given a dose of their own particular style. Having honed a sound that is at once refined and convivial they give fantastic performances from a repertoire that spans across international pop rock, French songs and jazz; from Serge Gainsbourg to Radiohead, from Edith Pilaf to Melody Gardot. Our cover duo's bilingual singer can perform as a French language singer or sing in English.
Renowned for their ability to create performances filled with songs that are at once familiar and unfamiliar, our French acoustic duo are the perfect choice if you're looking to add musical interest to your event.
Also recognised as a great jazz duo, they have performed at numerous jazz concerts and festivals in France, China, India, Chile, Mali, Morocco and across Europe including: Festival d'Avignon, Voix et Guitare de Montélimar, Jazz à Cheverny and Jazz à Houlgate. They have also performed at several prestigious castle venues in France like Bourdaisière and for corporate client such as Peugeot.
As an acoustic duo they are able to perform in any location and venue as long as space allows and as such can tailor their performance to suit your specific event; whether you're looking for genial background music or a jubilant performance to get guests on the dance floor. Book our French acoustic duo and French language singer for corporate events, wedding receptions, drinks receptions and cocktail parties, restaurants and more.
If you'd like to find out more about our cover duo, and to book them for your event, get in contact with our experienced entertainment coordinators.