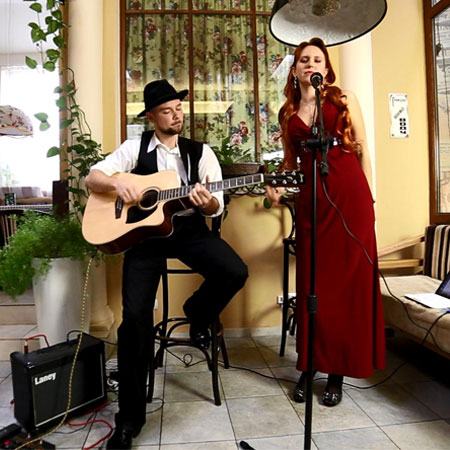 Acoustic Lounge Duet
Perform a wide number of popular songs and instrumental themes
Produce their own covers and interpretations of well known songs
Provide the perfect background music for dinners and drink receptions
Guarantee to bring a sophisticated vibe to any event
Based in Ukraine and available to perform at events worldwide
Based in Ukraine, Acoustic Lounge Duet perform a wide number of popular songs and instrumental themes including modern pop hits, jazz standards, rock ballads and many other genres of music.
By making their own covers and interpretations of well known songs, the duo create music that can be easily recognised by their listeners, but that also sounds fresh and renewed.
Both of the artists have gained extensive stage experience and cover a broad repertoire, which includes both purely acoustic covers and songs with professional exclusive backing tracks.
Vocalist Anastasia has worked for a number of years with pop and rock bands in Odessa, including tours with her own authentic songs, whilst guitarist Eugen has previously worked with several professional big bands and duos. Perfect for a broad range of events, including private parties, weddings, drinks receptions, hotels, cruises, corporate dinners and more, our acoustic duo bring a sophisticated vibe to any event and guarantee to make your event a complete success.
BANGLES - ETERNAL FLAME
Beyonce - Halo
Sting -shape of my heart
Robbie Williams - Singing for the lonely
Jamiroquai - Corner of the Earth
Robbie Williams - If it's hurting you
Sia - Chandelier
Seymour Simons - All of me
A.C. Jobim - Corcovado
The Police - Roxanne
David Guetta feat. Sia - Titanium
LA VIA EN ROSE
Hello Dolly – Armstrong
Let it be – beatles
let a song go out of my heart – Ella fitzgerald
Fine romance - Ella fitzgerald
Yellow submarine – beatles
I look to you – whitney Houston
Do u know what it means to miss new Orleans
It's only a paper moon - Ella fitzgerald
Wonderful world – Armstrong
Cheek to cheek – Fr. Sinatra