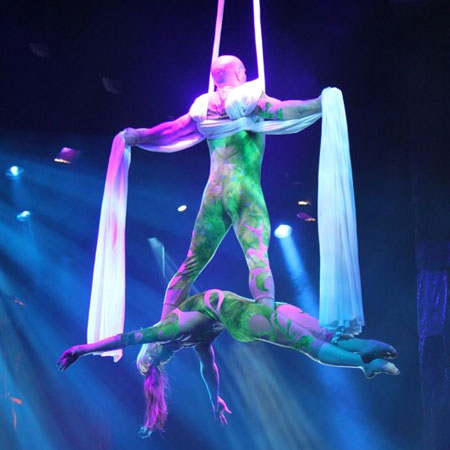 Acrobat & Aerial Duo
Combine breathtaking acrobatics, aerial acts, magic and passionate acting
Bring the audience to the edge of their seat and touch their hearts
Beautiful aerial artistry guaranteed to wow guests at any event
Acts include Aerial strap, hoop, silks, adagio, egyptien statue...
Based in Paris, France and available to perform at events worldwide
Acrobat & Aerial Duo PHOTOS
This Paris based Célia and Julien combine breathtaking acrobatics, aerial acts, magic and passionate acting, that will bring the audience to the edge of their seat and touch their hearts.
This Acrobat and Aerialist duo are a wonder to behold with beautiful aerial artistry guaranteed to wow guests at any event! They are a popular choice with those looking to push the boundaries and offer guests a dramatic and truly impressive visual spectacle, making them ideal entertainment option for corporate events and product launches!
Célia and Julien combine remarkable strength, extreme flexibility and creativity to add a touch of the spectacular to any event. This versatile duo offer unique entertainment with definite 'wow factor' and can perform using a range of apparatus, including trapeze, silks and hoops.
To find out more contact our team of Entertainment Specialists.
Aerial Strap
A screaming guitar the voice of Michael Jackson and the raw sensuality of Celia and Julien bring Jackson's "Dirty Diana" to life in a way you've never seen it before.  Flying high above in daring aerial acrobatics this duo transports you into the world of forbidden passion.
Statue
Strength - pure and simple.  The beauty and grace of Celia and Julien's brings to life the ancient egyptien statue to life. An act that will brings an audience to the edge of their seat.
Adagio
Celia and Julien reinvent dance itself with their acrobatic pas de deux combining hand to hand with spinning lifts.
Acts
An endless overhead spiral - Celia and Julien's Spanish Web Act highlights their strength and flexibility.
Aerial Hoop
Celia's raw sensuality will send you spinning as she performs amazing contortions - feats of strength and agility on the hoop.
Aerial Silks
Celia and Julien transform a fragile length of silk into the wings of a passionate aerial pas de deux.
A graceful and powerful act that draws you in to their powerful story.
Spanish Web
2011: Infinity Celebrity Cruises
2010: Soltice Celebrity Cruises
2009: Opening of the Xanty's Festival
2008: Holiday on Ice on Tour with Spirit
2008: Tarzan the Encounter Disneyland Resort Paris
2008: Creation of the Show Trois Font Quatre
2007: Love by Cirque Du Soleil Las Vegas
2006: the Magical World of Tinkerbell at Newport Bay Club
2005: the Magical World of Tinkerbell
2004: the Magical World of Tinkerbell
2012: NCL Jade
2010: Mercury Celebrity Cruises
2009: Equinox Celebrity Cruises
2009: Tv Show the Manager Produced by Endemol Middle East in Beirut Lebanon
2008: Holiday on Ice on Tour with Mystery
2008-09: Events with the Cie Les Farfadais
2008: Pourquoi Pas Cie Les Baladins D'heliacynthe
2006: Tarzan the Encounter
2005: Tarzan the Encounter
2004: Tarzan the Encounter
2011: Constellation Celebrity Cruises