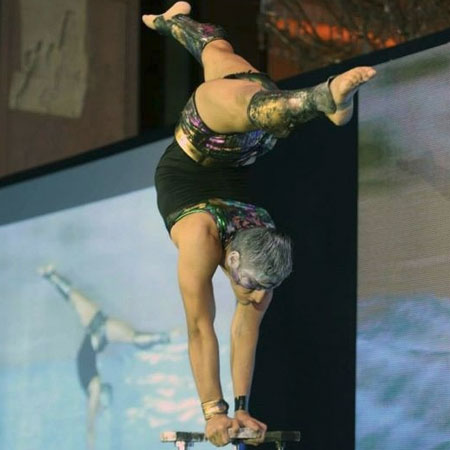 Acrobat and Aerialist David
Breathtaking aerial artistry guaranteed to wow guests at any event
Offers unique entertainment with definite 'wow factor'
Can perform using a range of apparatus, including silks, straps & hoops
One of very few male "Hoop Manipulation" performers in the world
Based in Mexico & available to perform at events worldwide
Acrobat and Aerialist David PHOTOS
Book an amazing aerial circus act to add 'wow factor' to your event
This unique aerial performer offers something a little out of the ordinary with breathtaking aerial artistry guaranteed to wow guests at any event!  Mexico based David is a popular choice with those looking to push the boundaries and offer guests a dramatic and truly impressive visual spectacle, making him an ideal entertainment option for corporate events and product launches!
David combines remarkable strength, extreme flexibility and creativity to add a touch of the spectacular to any event.  This versatile Acrobat and Aerialist offers unique entertainment with definite 'wow factor' and can perform using a range of apparatus, including aerial silks, straps and hoops.  He is one of very few male "Hoop Manipulation" performers in the world and his solo act has been seen by audiences in many different countries. 
His wide variety of skills caught the eyes of the casting department of one of the most innovative and awe-inspiring productions to be staged anywhere in the world, created and directed by the world's greatest showmaker Mr. Franco Dragone, "The House of Dancing Water" at the City of Dreams in Macau. He completed a fourteen-month contract performing the house troupe role, which included high dive, acrobatic dance and aerial chandelier with a female partner cradle.