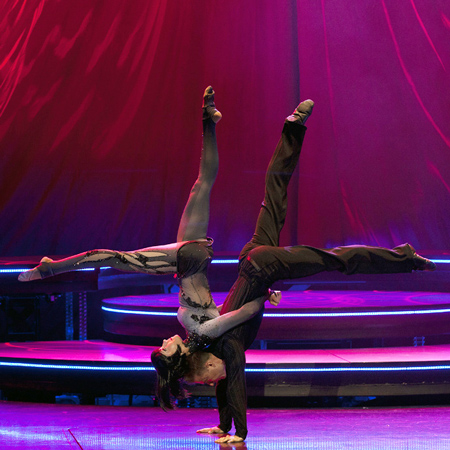 Acrobatic Dance Duo Ukraine
Incredible acrobatic dance duo will wow with the their passionate performance
Elegant contemporary dance routine to impress all audience types
Highly skilled acrobats with years of experience in circus entertainment
Fantastic entertainment for corporate events and gala dinners
Based in Ukraine and available internationally
Acrobatic Dance Duo Ukraine PHOTOS
Do you want to inject some passion and thrills into your event entertainment? Scarlett Entertainment is proud to offer you an incredible acrobatic dance duo from the Ukraine who will wow your guests with their breathtaking performance.
With its highly skilled male and female acrobat couple, the performance is infused with the kind of passion, physical contact and love that could only be performed by a genuine couple. Spectators will be transfixed on the acrobatic dance and blown away by the incredible display of talent.
The meticulously choreographed contemporary dance routine is combined with the acrobats' amazing skills they have gathered over many years performing in circus entertainment. The acrobatic dance act duo combine body balancing acts with elements of the rumba creating a glamorous , graceful and stunning contemporary dance piece that will impress audiences world wide. Guaranteed to make a lasting impact on your guests whether they keen high class dance enthusiasts, circus fans or families of all ages.
The dance duo come immaculately presented in very stylish outfits that suit the elegance or formality of many events. The powerful, dymnatic and graceful contemporary dance act show is suitable to wow audiences at many types of events from gala dinners and corporate entertainment, to family shows and private parties.
Our acrobatic dance duo is made up of two professionally trained acrobats with a plenty of experience with circus entertainment. Artyom, who studied at the Kiev Circus School, along with his partner Iryna. Collectively they have a lifetime's worth of experience and achievements. From circus tours in Russia and Saudi Arabia, winning acrobatics championships, extensive work on cruise ships and even teaching physical training, this acrobatic duo are at the top of their game and will make your event one to remember.
Get in contact with our amazing Scarlett Entertainment team of specialists to book this amazing acrobatic dance duo for your special event.