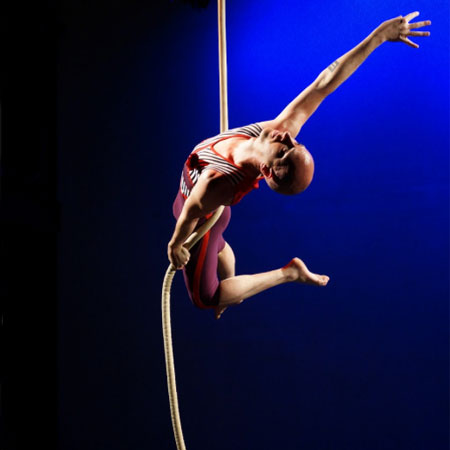 Acrobatic Performer New York
Incredible demonstration of power, strength & agility
Experienced & qualified teacher at a prestigious New York circus school
Performs using a range of apparatus inc. rope, net, trapeze and hammock
Perfect for private parties, corporate events, festivals & more
Based in New York & available to perform at events worldwide
Acrobatic Performer New York PHOTOS
Jason is professional and experienced acrobatic performer hailing from New York. Having competed nationally and internationally for many years as a men's acrobatic duo, Jason went on to teach the Flying Trapeze at the Trapeze school of New York and is now an instructor of Partner Balancing and Acrobatics at a prestigious New York circus school.
Alongside his teaching, Jason performs at public and private events across the USA and is a recurring performer in shows at the Galapagos Art Space, Coney Island and the new Slipper Room. His passion for acrobatics has lead him to become a talented performer on a variety of apparatus including cord lisse, hammock, net and trapeze as well as a first-class performer of partner acrobatics and hand to hand balance.
All of his performances are immense demonstrations of power, strength and agility and can be performed solo or as a duo. Each and every performance can be altered to suit the clients' needs from the choreography and music, to the apparatus and costumes. A producer of shows such as "The Waterfront Follies" and "Bawdville!" you can rest assured that he has a wealth of experience creating performances that receive standing ovations time and time again!