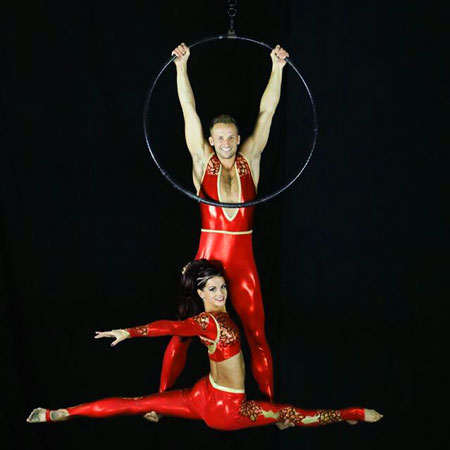 Adagio And Aerial Duo US
Mesmerising adagio act and aerial performance
Choice of aerial straps, hoop, LED hoop or silks
Customisable routine can suit clients needs and various venues
Available for shows from 5 to 45 minutes
Based in the US and available for events internationally
Adagio And Aerial Duo US PHOTOS
This incredible aerial duo are going to blow your guests away and have them looking up in total amazement as they deliver an impressive performance with grandeur and precision. Ranging from the sensual balancing feat of strength adagio act to a wide array of aerial performances, our acrobatic duo have something up their sleeves to suit any event type.  
The highly skilled circus performers have spent years crafting and honing in their skills to deliver an astounding show guaranteed to make you question what you know about strength and balance. The acrobatic duo are capable of delivering a completely mesmerising adagio act that is graceful, elegant and stunning to watch. Taking the event to new heights, the circus performers can offer a breath taking aerial performance. With male and female aerial duo or single silks and straps act and hoop or LED hoop performances, the aerial duo a sure to impress.
Delivering an exquisite collection of aerial performances and the fascinating adagio act means the acrobatic duo can tailor their performance to suit any event. Several performances are available without the aid of a mechanical winch meaning they can be booked for more venues. The circus performers also have several different costumes to chose from too. Offering a show that can last anything between five minutes right up to forty-five minutes means you can captivate your guests with a short display or keep everyone entertainment for a long period of time. 
Contact our exceptional Entertainment Specialists if you are interested in booking this amazing aerial duo. They will be more than happy to answer any queries you have and assist you in booking this act.