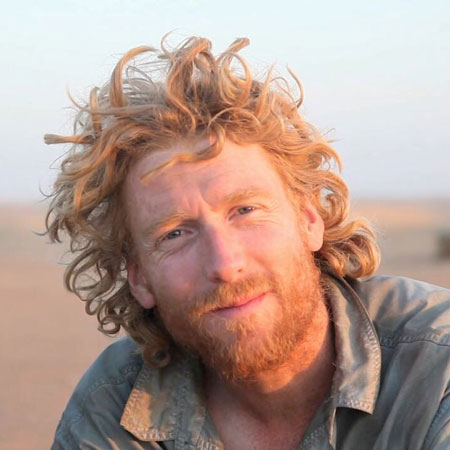 Adventurer Alastair Humphreys
Named National Geographic's "Adventurer of the Year" by National Geographic
Founder of the "Mircoadventure" concept
Cycled around the world
Microadventurer Alastair Humphreys is an Award-Winning Short Film Maker, Author and Motivational Speaker
Based In the UK and available for worldwide bookings
Adventurer Alastair Humphreys PHOTOS
Alastair Humphreys is one of National Geographic's Adventurers of the Year, an accomplished speaker and a best-selling author. Alastair's expeditions are deliberately varied but all are a call to arms that nothing is achieved without being bold enough to begin.
Alastair's adventures have generated a wealth of inspiring stories and demonstrate his belief that in setting small targets you can go on to achieve outrageous goals. Alastair has cycled around the world, a journey of 46,000 miles through 60 countries and 5 continents - an epic journey described by explorer Sir Ranulph Fiennes as and the first great adventure of the new millennium and Alastair has walked across southern India, rowed across the Atlantic Ocean, run the Marathon des Sables, completed a crossing of Iceland by foot and packraft, trekked in the Arctic, and walked across the Empty Quarter retracing the route of one of his heroes, Wilfred Thesiger, for 1000 through the desert in Oman. In 2016, Alastair followed the footsteps of Laurie Lee by walking through Spain. Lee played his violin in bars to pay for food: Alastair had no musical skill at all. Undeterred, he set out to learn how to play the violin and although admitting he was 'appalling', Alastair faced his fears, left money and credit card at home and busked in Spanish streets to complete the walk - and, although often hungry, didn't starve.
Alastair's award-winning concept of microadventures - short, adventurous journeys close to home - encourage people to undertake adventures of their own and improve their physical health, mental well-being, and that all-important elusive work/life balance. The message is clear: in every situation you can focus on the constraints and obstacles or you can look for the
opportunities. As Alastair puts it, microadventures encourage 5 to 9 thinking – an innovative approach that applies to so much more than adventure. The concept of microadventures led to Alastair being named as one of National
Geographic's Adventurers of the Year in 2012. Alastair's books, blogs, videos, short films, photographs and social media platforms demonstrate his exceptional creativity and are enjoyed by an international community.
A very popular corporate speaker, audiences appreciate that Alastair's messages are authentic and hard-won by trying new challenges in different environments. Alastair consciously steers himself away from becoming an expert in any one niche of adventure. Planning for a variety of expeditions requires not only careful consideration of the challenges ahead but also a
willingness to accept that you cannot prepare for every eventuality and the confidence and nerve to trust yourself to figure things out along the way. In an era of instant gratification, expeditions demand a passion to pursue long-term goals with a determined but flexible attitude. Reviews across a range of sectors demonstrate that Alastair's enthusiasm is contagious.
Feedback consistently emphasizes that Alastair's talks entertain audiences and deliver powerful messages around self-belief, creative thinking, innovation, change, finding opportunities within constraints, personal and team development, as well as facing challenge, work-life balance, the rewards of risk, staying motivated and setting small targets to achieve outrageous
goals. Corporate clients across all sectors appreciate Alastair's ability to tailor his talk creatively drawing on his many adventures to deliver on their brief in his engaging, humorous style. All of his talks, accompanied by superb
photographs, demonstrate the power of positive thinking and deliver the motivation and practical steps required to get started, make a change and focus on important goals no matter what they may be.
Alastair's presentations are inspiring, down-to-earth, quick-witted, honest, energetic and he challenges the audience to set more challenging goals - to do more. He reminds everyone that nothing is achieved without being bold enough to begin it and encourages people to believe in themselves and their potential.
Alastair has published nine books (including three for children) and he is a keen photographer, award-winning short filmmaker, popular blogger and motivational speaker. Alastair is patron of the Youth Adventure Trust, Hope and Homes for Children, the Outdoor Swimming Society and the Yorkshire Dales Society.
Speaking Topics:
Self belief
Creative thinking
Motivation
Innovation
Change
Finding opportunities within constraints
Personal and team development
Facing challenges
To book microadventurer Alastair Humphreys or for more information, contact our Entertainment Specialists today.
Cartier
Google
TEDx
Virgin Galactic
Amazon
Facebook
T Mobile
Twitter
Bank of America
" Your presentation was absolutely spot on, and the messages fitted well with the rest of our content and the theme of the day.  Having also spoken to some of the participants, I know that the audience really enjoyed it and felt it resonated well with their business challenges. "

IGD (Supply Chain Summit)
" Alastair spoke recently to a group of very senior Marketing VPs and CMOs at a Google event.  He did a wonderful job of engaging and inspiring the audience with them hanging on his every word.  He was equally comfortable presenting to his amazing photographs or handling a range of questions.  I would have no hesitation in recommending him for a corporate audience. "

Google
" Tremendous. The team were inspired and engaged in equal measure and it was a wonderful way to close the first day "

i-Prospect (Europe)
" I have just done the feedback forms and Alastair scored top marks right across the board. We got about 60 feedback forms in, and every single one of them marked him 5 out of 5 "

Legal & General
" Funny, relevant and inspiring. Considering it was a very tough crowd of wealth mangers who don't have English as their first language he did so well... they laughed along and after the speech many of them sought him out to tell him how motivated they felt to do something new and how he had inspired them. He was also asked for many photos which he happily obliged and bless him no matter how many times different people asked him what next he answered each as if it was the first time he had been asked. Throughout the evening after Alastair's presentation the overall audience was mesmerised and "wowed". He inspired change and people starting talking about taking action to make their own personal lives more satisfying. "

NPG Wealth Management
" I've witnessed many presentations over the years but I have never observed such universal engagement between the speaker and his audience. Al has a knack of being humbly inspiring and motivational whilst at the same time being just an ordinary guy (who's managed to get off his backside and achieve a ton of extraordinary stuff).  He effortlessly personalised his subject matter for the audience, was fun and memorable. Importantly, he actually inspired change within the audience – people responded and took action to make their own personal lives more satisfying, an intangibly wonderful result.  Finally he was a doddle to deal with, wholly informal and flexible.  An effortless 10/10. "

Amazon
" I've seen Alastair speak on big stages and to small groups and he's equally inspiring in both contexts.  He speaks with wit and wisdom "

Facebook
" Wonderful presentation. The most transformative and totally inspiring call to action "

Education Scotland
" He was a brilliant guy to have along and the whole team really enjoyed his company and his talk. I bumped into a senior client the next day who said I keep hearing this name 'Alastair Humphreys'! His talk was compulsive viewing and listening: he really was exactly what we'd hoped for "

Brand Innovation Workshop
" If anyone gets the chance to hear Alastair then jump at the opportunity "

England Rugby
" Absolutely excellent "

NFU
" Your talk was so inspiring and incredibly thought provoking! The discussions we led that afternoon were full of great conversation and energetic ideas with a lot of focus around your learnings "

AE Games
" We will definitely have you back next year. Absolutely brilliant "

Ernst & Young
" As good as Ranulph Fiennes "

IoD
" His talk was absolutely spot on.  I think the micro-adventure movement has real legs – particularly in mental health and physical well-being.  Thanks again for a brilliant booking "

Royal Tank Regiment
" With the possible exception of Sir David Attenborough, that was the best lecture, and the longest applause that I have heard in the past 15 years "

President, Royal Geographical Society
" The reviews have been extremely positive and everyone I have spoken with thoroughly enjoyed the evening and your amazing journeys, thank you for sharing this with us "

British Council for Offices
" Fast-moving, inspirational and humorous "

Zurich
" You really connected with our audience. Fantastic "

T-Mobile
" Alastair was absolutely amazing! I heard people say that hands down he was the best speaker they have ever heard – and our group attends a LOT of conferences. His experiences and the stories he told were so inspirational and they tied in so well with our event theme and overall content. We sent out a survey to our attendees and asked them what their favourite part of the event was. Alastair was brought up time and time again. I can honestly say that I've never had feedback about a keynote speaker like I did after your session.  To say it was positive was a massive understatement – extraordinary was more like it! "

i-Prospect (USA)