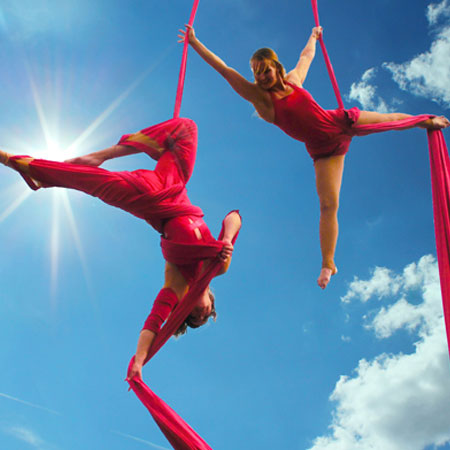 Aerial Acrobats Berlin
Award-winning performances will mesmerise & captive audiences
Offer a range of aerial shows suitable for indoor & outdoor events
Use a variety of apparatus including silks & trapeze
Previous clients inc. Mercedes-Benz, Audi, German Bank & Siemens
Based in Berlin & available to perform at events worldwide
Aerial Acrobats Berlin PHOTOS
This award-winning professional group of aerial acrobats offer a huge range of shows performed on a variety of apparatus including silks and trapeze. Their performances can cater to a huge range of event themes; from Spanish to fantasy and can be performed both indoors and outdoors - the possibilities are endless. All incredibly talented acrobats and aerialists, their performances showcase stunning artistry, graceful choreographies and an added pinch of drama that will mesmerise and captivate audiences at any event.
They regularly perform at national and international festivals including the Daidogai Festival in Japan, Siam Street Festival in Thailand as well as numerous festivals across Europe, and have performed at events for high-end clients such as Mercedes-Benz, BMW and German Bank.
Tango
A passionate and graceful aerial show that will heat up any event. Performed on stunning extravagant red silks.
Tissues
Audiences will watch in amazement as two aerialist rapidly fall and spiral through the air, floating seamlessly weightless above the ground. An enchanting performance that will be the highlight of any event.
Frau Wystzick
A solo aerial performance with a humorous twist that will have spectators in fits of giggles as this aerialist performs using a large aerial canvas.
Windrose
A performance specially created for outdoor events; aerialist perform at an incredible height of 12metres and combine wind cloths and bungee to create an amazing performance. Can be performed with 1 to 3 aerialists.
Tendance
In this beautiful aerial performance two bodies move as one in a harmonious movement. Elements
Winner of the first prize at the Cabaret Festival 2007 in Ulm, this is a themed performance that tells the story of two mythical beings meeting in a magical forest.
Magnolia
A romantic and poetic performance performed on fabric trapeze 5 metres above the audience. Mariposa
A dynamic aerial performance performed on beautiful red silks - it is sure to impress audiences.
Mercedes-Benz
Munich State Opera
Pro Rail
German Bank
DE CIX
Cospar Space Congress
Greenpeace
Inter Alia
Audi
German Car
Rabo Bank
Pasco
Siemens
Agio
Maybach