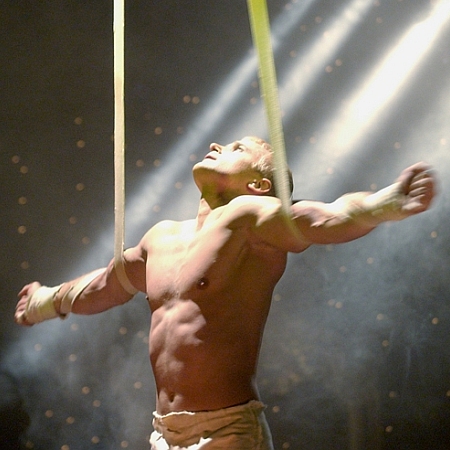 Aerial and Cyr Wheel Artist
Award winning artist with "edge-of-seat" shows sure to wow any guest
Performs amazing aerial stunts and Cyr Wheel routines
TV appearances incl "Le Plus Grand Cabaret Du Monde" in Paris
Previous clients include Microsoft, BMW, TV 5 France, Star Club Variety
Based in Germany and available to perform at events worldwide
Aerial and Cyr Wheel Artist PHOTOS
Aerial & Cyr Wheel Artist Mikhail is an award winning acrobat trained in the prestigious Moscow Circus School for aerialists. In 1997, even before his training was completed, he competed and won the silver medal of the Belgian Circus Festival, "La Piste from Esporis." This paved the way for him to be recognized as an up and coming name in the sports-entertainment field in Belgium and Russia.
In 1999, Aerial & Cyr Wheel Artist Mikhail was invited to Germany to perform in a number of shows. Since then, he has made Germany his home, performing in many variety shows and event productions all over Europe. Among the recent highlights of his work include the spectacular shows at the opening of the Max-Schmeling-Halle in Berlin, and his productions for ZDF "Summer Garden" in 2002, TV5 "Le Plus Grand Cabaret Du Monde" in Paris in 2008, a German RTL TV show and for the TV show "En Büyuk Show" in Istanbul in 2012.
Aerial & Cyr Wheel Artist is a powerhouse performer. His sophisticated artistry and unparallel creativity are traits that have endeared him to many of his supporters. He frequently performs at corporate events, aerial concerts, TV shows, circus-type events, and festivals. His shows are in demand internationally, and he has received a number of international awards and recognition.
Sports Gala Show / Belgium 2011
Gala Show sale / Dresden 2010
GOP Variete / Bad Oeynhausen 2010
GOP Variete / Essen 2010
City Theatre / Mallorca 2009
Friedrichsbau vaudeville / Stuttgart 2008
Edeka 100 years / Germany 2007
Casino / Lisboa 2007
Gala Show Siemens / Oman 2006
Kempinski Hotel / Munich 2005
Christmas Variety / Bad Nenndorf 2004
RTL TV show in Germany 2004
Star Club Variety / Fulda 2003
Gala Shows / Dubai - Abu Dhabi - Oman 2003
Pegasus Variete / Bensheim 2002
GOP Variete / Essen 2002
Et Cetera-vaudeville / Bochum 2002
GOP Variete / Bad Oeynhausen 2001
Circus Maximus / Rome 2001
BMW / Leipzig 2001
Ancient theater / Heilbronn 2001
Broadway Theatr / Buenes Aires 2000
Dream Theater Salomé 1999
Moscow Music Holl / Germany 1998
Winter Garden Variety Berlin 2012 - 2013
Winter Garden Variety / Berlin 2011
Winter Garden Variety / Berlin 2010
GOP Variete / Hannover 2010
Cirque Buoffon & GOP Variete / Mallorca 2009
TV 5 "Le Plus Grand Cabaret Du Monde" Paris 2008
International Computer Fair / Vienna 2008
Zeitz Theatre at the Capitol 2007
Roncalli Pagliacci / Hamburg 2006
Palazzo Funny man / Dusseldorf 2005
Roland Theatre / Münster 2005
Company Löffelhardt - 100th anniversary / Stuttgart 2004
DaCapo vaudeville / Darmstadt 2004
Liseberg / Gothenburg (Sweden) 2003
Krystallpalast Variete Leipzig / 2003
GOP Variete / Hannover 2002
ZDF TV show "Summer Garden" 2002
Gala Show DaCapo / Leipzig 2002
Gala Show Drivescom "/ Bad Oeynhausen 2001
Krystallpalast vaudeville / Leipzig in 2001
Chameleon Variete / Berlin 2001
Microsoft / Munich 2001
Roland Theatre / Münster 2000Technology Museum / Berlin 2000
Great Moscow Circus City 1998
Completion Moscow Zircus shcool 1997
TV show "En Büyuk Show" in Istanbul in 2012