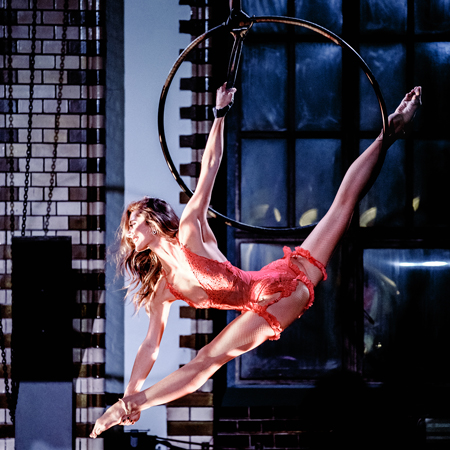 Aerial Artist Berlin
Beautiful costumes and lines create stunning performances that WOW audiences
Perfect for corporate entertainment, after dinner experiences and any occasion to add a touch of glamour class and style
Experienced aerialist with a range of acts: hoop, tissue, net and chandelier creates well rounded performances
Previous clients include, Samsung, Venus and Benidorm Palace
Based in Berlin, Germany and available to perform at events worldwide
Aerial Artist Berlin PHOTOS
A trained ballerina who has been performing professionally for over 8 years as a dancer and aerialist WOWs guests with daring routines, elegant aerial dance moves and stunning costumes. Our highly trained silk aerialist creates a ballerina meets circus performer act that combines both disciplines creating wonderful act that is perfect for corporate entertainment, private parties, after dinner entertainment and any occasion that wants an acrobat with grace, beauty and strength.
Our aerialist offers a range of acts including aerial hoop, tissue, net and chandelier and is dedicated to creating graceful choreographies that bring a classic and elegant aesthetic to any event. Focused on beauty and presentation her acts feature dazzling elegant costumes, clean lines and complex acrobatic dance skills. In addition, this aerial artist and circus performer also offers a number of themed performances including Christmas aerial hoop and silks, and Halloween themed entertainment.
During her professional career our silk aerialist has performed at events for The FriedrichstadtPalast, Benidorm Palace, Norwegian Cruise Line, David Garrett, Samsung and Venus. Not only has our acrobat performed for an extensive roster of previous clients but all of her performances can be customised to suit any event or theme, creating a truly magical and bespoke performance. 
A talented performer who trained at the Dublin Ballet School and the Northern Ballet School went on to begin her aerial training in the US and had the outstanding opportunity to train under elite acrobats who had performed in prestigious shows such as Cirque de Soleil, Le Reve as well as training with former Olympic Athletes.
Our talented performer combined her two biggest passions in life, dance and aerial to create a magnificent act that WOWs audiences all over the globe. A spectacularly elegant and sophisticated act is combined with jaw dropping costumes, extreme displays of flexibly, strength and athleticism and contemporary music creates a beautiful blend of ballet and circus styles. 
To book our spectacular aerial artist contact our Entertainment Specialists today.
FriedrichstadtPalast Berlin
MS Deutschland
Peter Maffay
The Overtones
David Garrett
Jean Ann Ryan Company
Norwegian Cruise Line
Samsung
Venus
Edeka