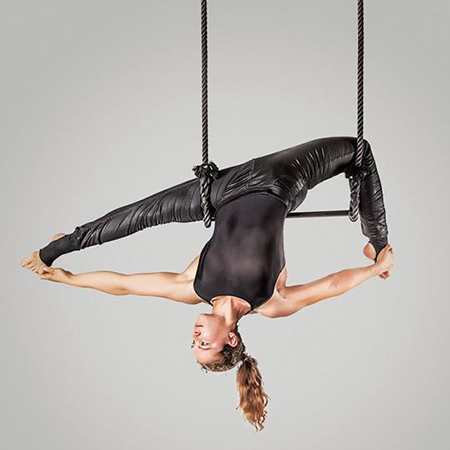 Aerial Artist Spain
Wide range of aerial circus acts with silks, ropes, static trapeze or swings performed by talented circus acrobat
Creative female aerial dancer can fully adapt routines for variety shows or bigger theatre productions
Versatile aerial circus acrobat boasts both academic and professional experience in South America and Europe
Perfect aerial circus entertainment for galas, dinners, after dinner shows, themed events, private celebrations, and many more!
This Aerial Artist is available for performances in Barcelona, Spain and all over the world
Aerial Artist Spain PHOTOS
Amaze audiences at your event with the boundless talent of this Aerial Artist from Spain, a skilled aerial circus acrobat who can perform different routines with not only one but numerous pieces of equipment. 
A versatile circus performer, this female aerial dancer offers different shows that can be adapted to meet your needs. Boasting academic and professional experience, our circus performer has trained in both South America and Europe. 
Happy to adapt her aerial circus acts to they become part of a variety show or a bigger theatre production, this aerial circus acrobat is committed to work closely with you in order to come up with ideas for new routines or they way to customise her exiting one to fit your theme.
A master in various disciplines, this aerial circus acrobats can perform stunning routines with ropes, swings, static trapeze and aerial silks. Executing impossible stunts up in the air, this talented aerial dancer is guaranteed to cause jaws to drop with her display of flawless technique and boundless creativity. 
A popular aerial circus entertainment for a diverse variety of events, our female aerial dancer is the perfect choice for ceremonies, galas, dinners, after dinner shows, themed events, private celebrations, and many more.
Scarlett Entertainment offers a broad range of aerial circus entertainment for events in Barcelona. Spain and worldwide.
Book this multifaceted Aerial Artist from Spain by contacting us today. Our in-house team of Entertainment Experts will be more than happy to answer all the questions you may have about this aerial circus acrobat and assist you in the booking process.