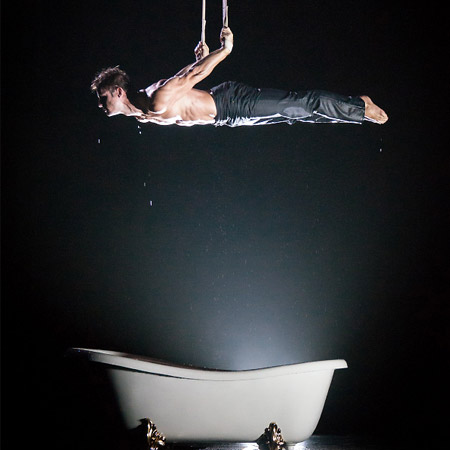 Aerial Bath Tub Show
Talented male aerialist will provide your event with unique aerial water routines.
An exceptional aerial act showcasing our performer's aerial skill.
Incredible aerial show that is bound to impress with ease.
Perfect aerial bath tub for corporate events, themed occasions, gala dinners, and more.
Book aerial performer for events throughout Poland and worldwide.
Book our talented and eccentric male aerialist, and watch as your guests are instantly captivate by our skilled and talented aerial performer. Providing your upcoming special event or social gathering with a resounding "wow" factor experience, our unique water based aerial act is sure to leave your guests at the edge of their seats sporting wide eyes. Our intricate performer will combine his skilful aerial straps with a classical bath tub to create a unique water based experience. A delightful and high quality aerial show is what your guests will be treated to.
Mixing together the fun filled nature of a water themed experience, our aerial performer will constantly dip himself within our delicate and classical looking bath tub prop before emerging above your guests where he will perform a variety of fast paced and elegant looking routines. Our talented male aerialist will capture the attention of your guests within seconds of our thrilling aerial show. Proving to be an instant success, our aerial act experience can be easily adapted to fit alongside an assortment of themes and styles, as well as can be performed in a variety of different sized venues.
Displaying phenomenal choreography and skills, our outstanding and remarkable aerial performer showcases his fantastic skills and supreme knowledge of aerial straps in front of your audience. Our wonderful male aerialist will provide your event with a must see performance that will quickly take your event to the top of the ladder, keeping your guests talking for weeks to come. The perfect aerial act experience that will keep guests engaged throughout any private party, corporate functions, theatre performances, festivals, gala dinners, drink receptions, ceremonies, themed occasions, and more. 
If you're interested in booking our exceptional and skilled aerial performer and aerial act for your special event, contact any of our in house entertainment experts who will assist you with your booking needs, as well as answer any questions you might have.