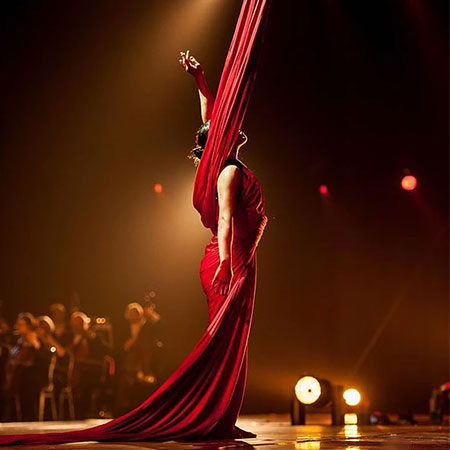 Aerial & Contortion Artist
Multi-talented and versatile circus performer specialised in aerial shows and contortion
Able to create fully bespoke aerial and contortion shows with music of your choice and with other performers
Happy to mix aerial and ground routines and wear different costumes and make up to fit your theme
Have performed for audiences worldwide as part of the cast of the Lion King and important circus companies
This Aerial and Contortion Artist is based in Rotterdam and available for bookings worldwide
Aerial & Contortion Artist VIDEOS
Aerial & Contortion Artist PHOTOS
This Brazilian-born female aerial dancer and contortionist is a multi-talented and versatile circus performer. Academically trained, this experienced Aerial and Contortion Artist has been part of numerous circuses, theatre companies and big stage productions.
Currently based in Holland, this circus professional has specialised in aerial shows and contortion. Having performed worldwide with different circus companies, she has also participated in several festivals such as the Atlas Reykjavik Dance Festival in Iceland or Circus Festival Lugano in Switzerland, to name a few.
With plenty of experience in theatre, our aerialist has also been part of the cast of big stage shows such as the Lion King and Tarzan and had the opportunity to perform at one of Mariah Carey's concerts in Brazil.
Able to create fully bespoke aerial shows especially for your event, our aerialist is committed to work closely with you in order to deliver a spectacle that meets and exceeds your expectations. As a solo performer or alongside other aerial artists, she can create stunning aerial routines and solo contortion acts with music of your choice.
Happy to adapt her aerial and also bespoke contortion acts to different themes, our performer can customise her shows by wearing different costumes and make up. She can also combine both disciplines by mixing aerial and ground routines.
Well suited for events such as galas, ceremonies and dinners, our female aerial dancer and contortion expert is also perfect for festivals, theatre productions, product launches, and more. Whatever the occasion, she's guaranteed to captivate audiences with her superhuman strength, flawless technique and exquisite elegance.
At Scarlett Entertainment we pride ourselves on providing high-end aerial and contortion shows for events in the Netherlands and all over the world.
Hire this fantastic Aerial and Contortion Artist today by contacting us. Our dedicated team of Entertainment Specialists will be more than happy to answer all the questions you may hav