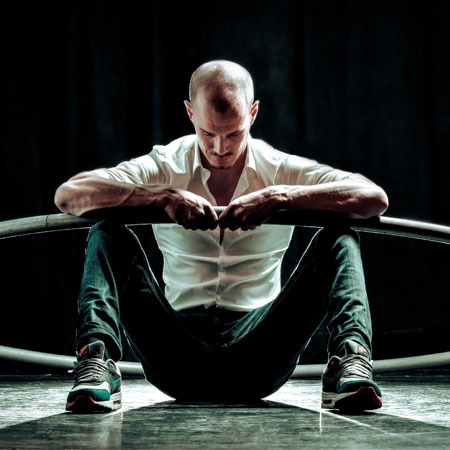 Aerial & Cyr Wheel Artist
Incredible artistic performance will captivate audiences of all ages
Moves skilfully between cyr wheel & aerial straps
Has performed at numerous prestigious events across Germany
Ideal for corporate events, after dinner shows and more
Based in Berlin & available to perform at events worldwide
Aerial & Cyr Wheel Artist PHOTOS
This incredible multitalented circus performer will captivate audiences with his brilliant stage show. Artistic and poetic, his stage character takes the form of an unassuming businessman who springs into action circling the stage with convincing ease using the cyr wheel, and climbs towards the sky on aerial straps.
The once unglamorous businessman takes centre stage and with breathtaking speed and precision astounds audiences with his abilities. His choreography is dynamic and graceful and is performed in perfect synergy with a careful chosen soundtrack. With verve, skill and passion, he creates rings and circles around the stage - using the ring as symbol of unity and metaphor for strength and beauty. His aerial strap performance is just as enthralling, audiences will watch in amazement as his climbs towards the sky, dips, drops and twirls through the air in a graceful aerial dance.
This artist's performance combines an unusual stage persona and circus skills to create a powerful form of visual poetry that tells the story of the businessman's escape from the daily grind. Emotive, beautiful and inspiring, his stage performances are highly dramatic and will not fail to bring an added WOW factor to any event.
Cahe Hahn – Koblenz
Pegasus Varieté Bensheim - Fun-tastscher Frühling
GOP Varieté München – Short Cuts
Pflasterzauber – Straßenmusik & Straßenkunstfestival Hildesheim.
Teilnahme beim "13 Internationalen Kleinkunstfestival 2012 Insel Usedom" – Gewinner des Sonderpreis.
GOP Varieté Münster – Spirits
Mitwirkung im Musik Video von Talking To Turtles – "Grizzly Hugging"
"Viva Varieté" – Friedrichsdorf
"Sterne des Varietés" – 10 Jahre Jubiläumsshow - Dietzenbach
GOP Variete – Hannover " Talents"
Wheel Gymnastics World Championship / Cyrradbattle 3. Platz – Arnsberg
Tui Crusis – Mein Schiff. GOP auf See.
Circus Monti – 25 Jahre Aufwärts. Schweiz
Variete Extra – Darmstadt
No Roots – Absolventen Programm der Stattlichen Schule für Artistik.
Friedrichsbau Varieté – Stuttgart
Waggonhalle Marburg – ZAC Variete
Internationale Kulturbörse Freiburg
Neues Theater Höchst – Frankfurt.
Burgfestspiele in Dreieichenhain.
BASE Berlin – Holland Tour
"Oktopus Varieté" Berlin
"Horror Circus" – Kaiserslautern
"Varietéspektakel" – Theater an der Ilmenau - Uelzen
Varieté im Werkhaus – Liestal Schweiz
Therme Erding – Mitternachtsbaden Aufguss- & Wohlfühlprogramm – Erding
Krystallpalast – Fortissimo. Leipzig
GOP Varieté – Beatz. Bad Oeynhausen Münster Essen und München (8 Monatige Tour)
NDR - Aktuelle Schaubude. Hamburg
Apassionata – Sehnsucht. Deutschland
Abschlussprüfung an der Staatlichen Schule für Artistik in Berlin.
Neues Theater Höchst – Frankfurt