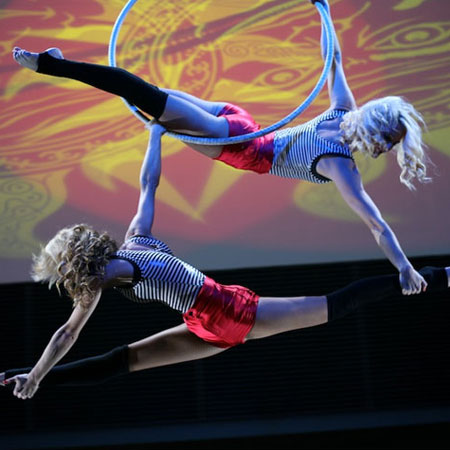 Aerial Duo
Experienced Cirque aerialists can perform a variety of aerial skills including Aerial Silks, Aerial Hoop, Aerial Pyramid and Nets.
Multi-skilled duo can incorporate dance, music and bespoke sets into their line-up to suit your events requirements.
Truly international, this duo have performed all over the world at events in China, London, India and more.
A unique and high-energy entertainment option for private or corporate events.
Book aerialists to perform at your event in the UK or worldwide.
Multi-skilled aerial duo put on a unique and engaging aerial show. Experienced circus performers, these Cirque aerialists provide exceptional entertainment for any occasion. Aerial duo can perform a variety of aerial skills including silks, Lyra, hoop and even aerial dance. Hire our aerialists for amazing and unique circus themed entertainment today. 
Renowned for their amazing aerial skill set, this aerial duo have been performing for a number of years and have previously performed at various events all over the world. Truly international their aerial performances are face-paced, beautiful and highly engaging. Perfect for a wide range of events, consider booking our Cirque aerialists for captivating wedding entertainment, a mystifying corporate entrance entertainment option or for an exclusive VIP party. 
Unique circus performers our aerialists take events to new heights with acrobatic displays of strength, flexibility and movement. Combine this with dazzling costumes, make-up and bespoke pieces of music for an enjoyable entertainment option. 
Our aerial artists can perform a variety of different shows including:
Aerial Silks: 
Available as a Solo or Double act and can be performed in any costume to suit specific theme.  
Popular tracks include:
Arrival to Earth by Steve Jablonsky (5 min 27 secs)- Slow, graceful, Dynamic
All That Jazz- Chicago Soundtrack (5 min 17 secs)- suitable for 1920s events and themed parties,
The great gig in the sky- Pink Floyd (4 mins 47 secs)- feminine and sexual
Allegria- Cirque du Soleil (5 min 51 secs)- Strong and Elegant
Aerial Hoop: 
Aerial artists available as a Solo or Double act and can be performed in any costume to suit specific theme.  
Popular tracks include:
Where do I begin- Shirley Bassey remix (5 min 28 secs)- feminine and classic
Inncantation- Quidam (5 mins 21 secs)- Dynamic and vibrant
Only You- Dream a Little Dream- Zebraville & Mama Kass (5 mins)- Fun and flirty
Feeling Good- Muse (3 min 18 secs)- Jazzy and elegant
I like the way you move- Rockmasters (3 min 20 secs)- Rocky, Edgy and Sexy
Also available- Ambient Hoop act- Usually 2 x 15 minute sets
Aerial Pyramid: 
Exciting new act which captivates the audience from every angle showing flexibility and strength with a seductive style.  
Usually performed to:
Garbage- Romeo and Juliet Soundtrack (4 mins)
Contact us today to find our more about booking our amazing aerial artists for events in the UK or worldwide. 
Cartier Polo for China Whites
Filming for TV show Apprentice
Launch of new Juicy Couture Perfume at Selfridges
Dellagio Foundation 8Rocks Charity Gala Dinner
Future Dreams Charity Performance Piccadilly Theatre
Marks and Spencer 125th Anniversary opening with Will Young
Private event for Canon
Adidas Fashion Shows
BBC1 Magical Forest ident
Mont Blanc Charity gala in China
Metro Ski show
Samsung internet Viral
Loreal Tour
Nostrovia Christmas event Battersea
L.A Fitness shoot
Sky movies ident
Fashion catwalk circus in Dubai
Sky awards in Wales
Opening of Shopping mall "Public" in Greece
HSBC event in Jersey
Mazda Festival of Speed
X Factor for Diana Vickers
Sanex Photographic and TV Commercial
TK Maxx National Photographic Campaign
Formula 1 Ferrari event Abu Dhabi
BGC 9/11 Charity event London
Dazed and Confused Magazine for Alexanda Mcqueen
TV Launch of Fashion 360 in Pakistan
Launch of Vodafone in Qatar
Virgin Holidays Commercial
Take That shine video and princess Diana Concert
Ford car opening launch in China
Eurostar corporate party
Nokia internet Viral
Bobby Moore cancer ball
London fashion awards
Katy Melua music video
Da Vinci Code corporate event in France
Festival of the sea in Kuwait
Night of the Stars for Mercedes Benz
Corporate event Chemical Industries at Grosvenor house
TGV french Train advert
Vitality Show Olympia
Chevrolet Photographic Campaign
" too much talent to say in one breath "

Donna Air - Future Dreams Charity Performance, Piccadilly Theatre
" I just watched you, you girls are amazing.... "

Duffy - Future Dreams Charity Performance, Piccadilly Theatre
" WOW absolutely amazing "

Will Young M&S 125th launch
" That was great girls "

Jonathan Ross - Off piste show, Battersea Evolution
" Such grace and elegance whilst suspended in the air "

Client at the science museum