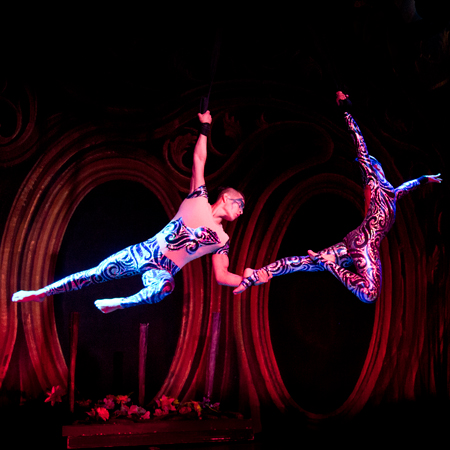 Aerial Duo Mexico
Versatile male and female aerial duo with high-impact sensual displays
Seasoned professionals with international experience
Circus entertainment for corporate clients, family-friendly events, cruise ships and more
Customisable aerial shows with tailorable costume options
Based in Mexico City and available for events all over the world
Our male and female Aerial Duo Mexico provide a visually captivating and uplifting aerial show whatever the occasion. These two talented and multi-skilled circus performers in Mexico have a great deal of experience providing a range of circus entertainment for different event types all around the world. 
The Aerial Duo Mexico is presented by two seasoned professionals that bring circus entertainment to corporate clients, family-friendly events, cruise ships and holiday resorts worldwide. Their stunning and breathtaking aerial show is a fantastic display of strength, agility, grace and harmonies choreography. Their bodies elegantly intertwine high up above that stage, with beautiful and romantic routines that fascinate the audience. 
These two circus performers in Mexico are able to devise a unique aerial show, especially for your event. Using primarily straps or silks, our Aerial Duo Mexico has a range of costumes and the ability to customise their appearance as well as creating a new routine. This can range from something casual to a high impact, energetic aerial show. 
This customisable circus entertainment is great not only in a circus environment but works extremely well at corporate events, product launches, awards ceremonies and special occasions. The aerial duo looks spectacular when they tailor their stage outfits to the event theme or colour scheme. 
Top Tip:
These circus performers in Mexico have a range of skills that includes the cyr wheel, cube juggling and LED aerial hoop. 
Contact us at Scarlett Entertainment if you would like to book our Aerial Duo Mexico for your event or if you are looking for versatile circus performers in Mexico.