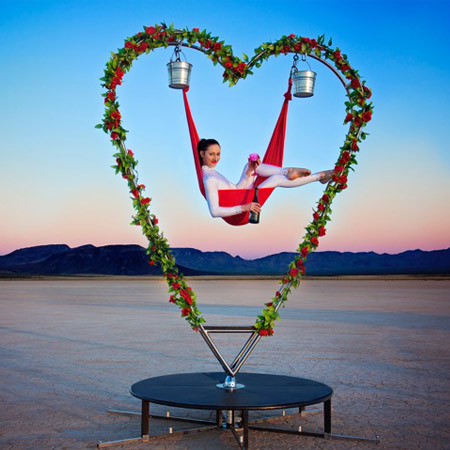 Aerial Heart Act USA
Female aerialist performs a wide variety of aerial tricks using a beautiful floating prop.
Fantastic aerial act will turn heads and entertain with an amazing spinning and hanging heart.
Exceptional aerial chandelier that will "wow" your guests from start to finish.
Aerial performers ideal for private parties, corporate events, gala dinners, etc.
Aerial prop experience available for booking across the USA and events worldwide.
A fantastic live aerial act that knows how to create an amazing atmosphere for your special event or gathering, our remarkable female aerialist is sure to wow your guests from start to finish as she provides your upcoming occasion with a phenomenal live aerial chandelier. A performance bound to create unforgettable memories, our exceptional group of aerial performers are well trained and are sure to have universal appeal with your guests, as our aerial act features a beautifully crafted aerial prop that is shaped like a heart.
Seasoned female aerial performers with a wealth of performing experience, our aerialist will deliver an amazing aerial chandelier experience that is available in a variety of options, including a set time of either 5 minutes, 20 minutes, or 30 minutes, and can include a standard aerial act, or a fun drink server. A fun and rhythmic live aerial act, our aerialist can also tailor her performance to suit your occasion, our versatile female performer will delight your guests as she performs in perfect harmony with the beautiful atmosphere created and her wonderful aerial prop that will leave your guests breathless.  
An exciting and amazing female aerialist who will enchant your guests and make your special event a little more magical, our professional entertainer will demonstrate an undeniable passion for aerial tricks and routine performances each time she performs at an event. A sensational aerial act that will supply your special occasion with rich and distinctive visual spectacles. An entertaining and alluring aerial chandelier performance! The ideal group of aerial performers for black tie occasions, themed events, private parties, receptions, weddings, gala dinners, corporate events, and more.  
If you are interested in booking our beautiful female aerialist for your upcoming special event or gathering, contact any of our amazing Scarlett Entertainment team members who will assist you with your booking needs, and answer any questions you might have.