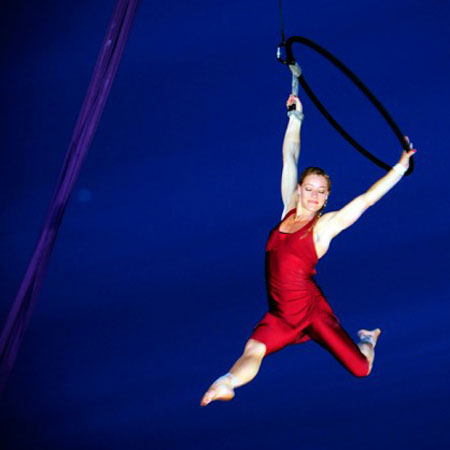 Aerial Hoop Dance
Gravity defying, graceful performances will WOW audiences
Perform to a variety of live music accompaniments
Can perform as soloists or as a synchronised solo ensemble
Perfect for ceremonies, corporate events, theatre shows & festivals
Based in Amsterdam & available to perform at events worldwide
This stunning group of acrobats offer theatrical, colourful and original performances in the style of the new circus. All experience and professional acrobats and aerialists, their performances are incredible demonstrations of power, flexibility and agility.
This act can be performed with a single solo aerial hoop performer or with a number of solo aerial hoop performers, as a synchronised ensemble performing in perfect synergy. Their performances, sensual displays of grace, power and flexibility, will delight and astound audiences and leave them breathless.
Suitable for both indoor and outdoor events, many parts of their performance can be customised including costumes, live musical accompaniment, coloured hoops and choreography.