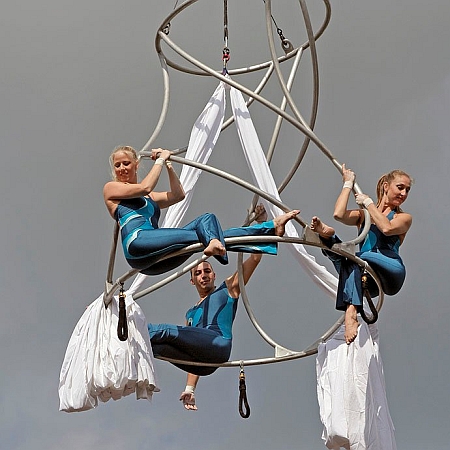 Aerial Objects
Unusual abstract metal structures make a unique aerial performance
Jaw-dropping choreography will leave audiences breathless
Dramatic live music creates a thrilling theatrical show
Perfect for ceremonies, corporate events, theatre shows & festivals
Based in Amsterdam & available to perform at events worldwide
This stunning group of acrobats offer theatrical, colourful and original performances in the style of the new circus. All experienced and professional acrobats and aerialists, their performances are incredible demonstrations of power, flexibility and agility.
High above the audience, these incredible aerialists perform jaw-dropping choreography on unusual, complex, and abstract metal structures creating a unique eye-catching centrepiece to your event. Choreographed to dramatic live music, their theatrical show will have audiences on the edges of their seats.
Full of thrills and excitement, this show can be customised to suit the needs of your event, and performed with different objects in combination with aerial silks in order to create a truly spectacular show.