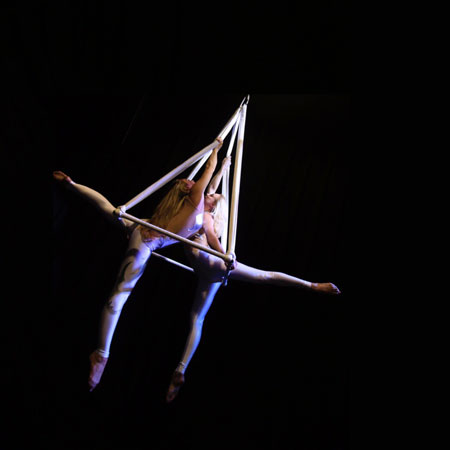 Aerial Pyramid Duo
Stunning aerial acrobats on an unconventional pyramid aerial prop
Very elegant and highly sophisticated performance
Suited to everything from cocktail parties and brand launches to private parties and special occasions
Can create custom outfits with corporate logos or branding
Based in Las Vegas and available for events all over the world
Aerial Pyramid Duo PHOTOS
Our incredible Aerial Pyramid Duo is a brilliant aerial performance featuring two stunning female acrobats on a totally unconventional aerial prop. This mesmerising stage act is a visual delight that captivates it's audiences though perfectly choreographed acrobatics and fluid contortions whilst suspended above the ground. They short, high impact show is guaranteed to make a great impression with your guests.
The aerial acrobats and their very unconventional stage prop deliver an eye-catching and highly elegant sky-high routine suspended in the air or ambient aerial contortions that fit into the background of your event. They make a fantastic focal point to a wide variety of events and a very well suited to everything from cocktail parties and brand launches to private parties and special occasions.
Dressed in fantastic white unitards and performing on a white pyramid prop, the Aerial Pyramid Duo is a very versatile aerial performance that fits perfectly within multiple event types. The Las Vegas aerialists also have access to many different costumes which can be tailored to suit your event type, theme or colour scheme. Upon request, they make create custom outfits with corporate logos or branding.
Based in Las Vegas and available for bookings all over the United States, The aerial acrobats will always deliver a high quality performance and are able to customise their appearance and routine to suit client briefs
To book or find out more about the Aerial Pyramid Duo, contact our team at Scarlett Entertainment who are always more than happy to help.