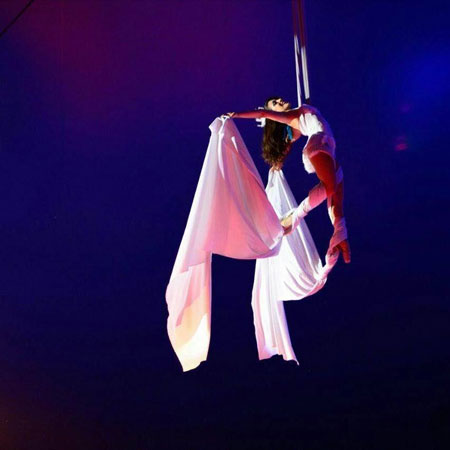 Aerial Silk Artist Chile
Our talented female aerialist performs gravity-defying stunts and tricks while suspended in long silk scarves 14 meters high
Performed with grace and poise, this circus act creates beautifully crafted shapes while seemingly floating in mid air
Diversely talented, our acrobatic performer is also skilled in dance, trapeze, and aerial hoop
This breathtaking aerial artistry is a fantastic option for wowing guests at corporate events, galas, high-end private parties and more
Based in Chile, our aerial artist is available for international bookings
Aerial Silk Artist Chile PHOTOS
Treat your guests to a dramatic and visually beautiful circus act with our talented Aerial Silk Artist Chile. 
Demonstrating an emotionally uplifting and awe-inspiring act, this female aerialist is sure to take your audience's breath away as she climbs, spins and falls from great heights, before catching herself in beautiful long silks. 
Be guided into a theatrical, elegant and artistic world and watch as our acrobatic performer demonstrates dramatic and innovative choreography high among her aerial silks. Diversely talented, our aerial artist is also well versed in the art of aerial hoop, acrobatics and dance. 
A dynamic acrobatic performer, our aerial artist delivers a dramatic and striking show, performing choreography with finesse and exuding sophistication, grace, and beauty.  
A highly experienced acrobatic performer, this female aerialist has performed for enraptured audiences in countries across the world, as well as presenting her act to circuses, cruise ships, for high-end private parties and prestigious corporate events.
With many awards among her accolades, this fantastic female aerialist has received honours from a number of circus festivals, so you can be sure you're in the experienced hands of an expert. 
With beautiful flowing white silks and crystal costume adorned with glittering sequins, this act makes for a stunning, high-end performance guaranteed to deliver on the wow factor and leave a lasting impression guests will never forget. 
Top Tip:
Why not double the impact with one or more additional performers and ask our Aerial Silk Artist Chile to create a display that showcases her skills in duo acrobatic trapeze routines. 
Take a look at the additional aerialist circus acts on our extensive roster, which combine beautiful acrobatics with great heights for captivating aerial performances. 
To find out more about our professional female aerialist and book her innovative act for your next event, get in touch with our team of Entertainment Experts.