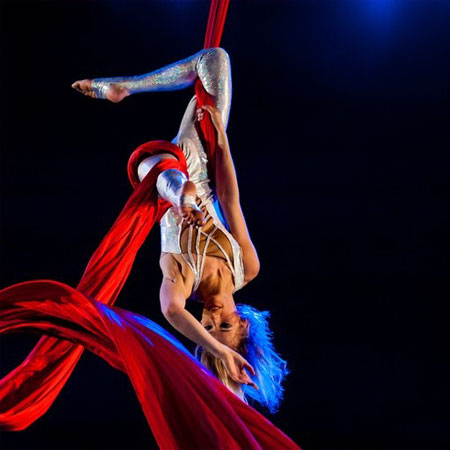 Aerial Silk Performers Holland
Performing a discipline known as aerial silks or aerial tissue, our silk artists delight audiences with their graceful shows
Our aerialists offer solo silks performances themed around diamonds or time, or alternatively provide beautiful duo silks shows
All round circus entertainment specialists, our artists can create bespoke shows for your event
Our aerial dancers have performed for the likes of Lunatic festival, the RET Awards & Freiwald Christmas Circus
Book Aerial Silk Performers Holland for events in Amsterdam & worldwide
Aerial Silk Performers Holland PHOTOS
At top booking agency Scarlett Entertainment we specialise in beautiful circus, music and theatre shows, guaranteed to wow guests whatever the occasion. Our dedicated sales team works closely with clients and artists to ensure that every event runs smoothly. One of our popular circus entertainment acts, Aerial Silk Performers Holland are a duo of professional aerialists, providing amazing shows featuring coloured silks suspended from the ceiling. A true cirque extravaganza, our silk artists spin and interact with one another as they are held in the air. A delicate and graceful live show, our aerial dancers have viewers transfixed when they perform. 
Also known as aerial tissue, aerial silks are a versatile aerial apparatus, enabling aerialists to perform amazing acrobatics and holds whilst dangling in the air. One of the most elegant types of circus entertainment, aerial silks combine visually attractive displays with extreme technical skill. After meeting whilst on tour with a circus, our silk artists realised their ability to perform alluring duo shows. Both professionally trained circus entertainers, together the duo specialise in acrobatics, hand balancing, duo unicycling and a variety of aerial skills.
Offering totally customisable entertainment for clients, our aerial dancers can provide either solo or duo silks shows, as well as incorporating a range of other circus skills into their live performances. Specialising in solo shows themed around 'time' and 'diamonds', our aerial silk artists will have your guests mesmerised as they invite audiences to enjoy captivating visual narratives.
Having performed for numerous high profile previous clients and events, our artists have entertained for the likes of Lunatic festival, the RET Awards and Freiwald Christmas Circus. A beautiful after dinner show for corporate functions and galas, as well as a striking festival entertainment option, our Aerial Silk Performers Holland never fail to delight. For more information about booking this act, please contact our team at Scarlett Entertainment and we will be happy to help. 
Opera Benvenuto Cellini | Opera di Roma | 2016
Club van Sinterklaas  | Ahoy Rotterdam | 2015
Cirque Lumiere | Themapark Duinrell | 2015
Scala aan Zee | Den Haag | 2015
Chameleon Theater | Berlin DE |2014
Magic Circus | Tour NL | 2014
NXP | Circusfactory
LUMC | Flying Artwork
Benefits for kids
Bijenkorf | La Fura dels Baus
Hermitage | Flying Artwork
RET Awards | De Circusmachine
Nationaal Theater Weekend
European Juggling convention | Almere NL | 2016
Winter Jongleer Weekend | Heerlen | 2015
Oerol Festival | Terschelling NL | 2014
Cirque Lumiere | Themapark Duinrell | 2016
Wintercircus Martin Hanson | Tour NL | 2015-2016
Opera Benvenuto Cellini | Gran Teatre Liceu Barcelona | 2015
Opera Benvenuto Cellini | Nationale Opera Amsterdam | 2015
Magic Circus | Tour NL | 2015
Freiwald Christmas Circus | Nijmegen | 2014-2015
Business events
RET jubilarissen | Farla Illusions
Opening Bikerstunnel | Flying Artwork
Concert Radio Phylharmonic Orchestra | Corpus Acrobatics
Bizz Gala | Flying Artwork
Maassilo | De Circusmachine
Bison | Flying Artwork
Ronald Mc Donalds | Flying Artwork
Circusstad festival | Rotterdam NL | 2016
Acrobatics convention | Hilversum | 2014
Lunatic festival | Torino IT | 2014
Circus Salto | Voorjaarstournee NL | 2016