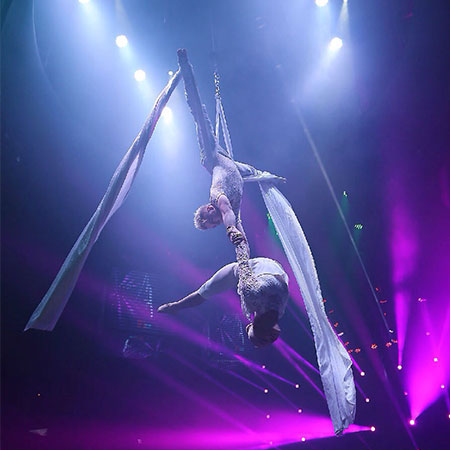 Aerial Silk Show
Acrobatic aerial dance performed by either one or two talented silk aerialists
Complex acrobatic moves and energy-filled choreographies performed with elegance and precision
Aerial silk artists can adapt their show to fit your event's theme and perform to requested songs
Have performed at cruise ships, sports ceremonies and private parties all across Europe and Asia
Book this Aerial Silk Show for events in Russia and worldwide
Leave audiences breathless with this Aerial Silk Show. An acrobatic aerial dance that will defy gravity and that it's the perfect combination of elegance, beauty and strength. Performed either by a solo acrobat or by two talented silk arealists, this stunning acrobat performance will make it impossible for viewers to take their eyes off them.
Their five-minute stunning acrobat performance will captivate your guests from start to finish. They will execute a beautiful acrobatic aerial dance high above your guests, forcing them to raise their sights at certain points during the performance.
Perfectly synchronised, our talented silk aerialists will perform a number of acrobatic moves with elegance and precision. Their Aerial Silk Show is a free-styled routine that combines energy-filled choreographies with complex technical acrobatics and shining costumes.
Our aerial silk artists will leave behind lasting impressions and will get people talking not only because of its complexity, but also because they normally use well-known songs to create their acrobatic aerial dance. As seen in the videos above, they can carry out their performances to the rhythm of Adele's or any other songs on request.
On top of all that, both solo acts and duos can be customisable, so whether you require our aerial silk artists to perform to a requested song, create a personalised choreography or wear some costumes that fit your event's theme, they can do it for you.
Powerful and dynamic, this Aerial Silk Show is the perfect entertainment circus experience for cruise ships, award ceremonies, private parties, corporate functions and more. These talented silk aerialists have already delighted audiences at events all over the world among which the Opening of the Olympic Games in Sochi in 2014 stands out.
Contact our amazing Scarlett Entertainment team of specialists if you're interested in booking this stunning acrobat performance for your upcoming special occasion. 
Costa Cruise
Princess Cruise
The Musical Sleeping Beauty Moscow
Circus Arena Moscow
Opening of the Olympic Games 2014 in Sochi
Star Cruise
Circus Quimera Spain