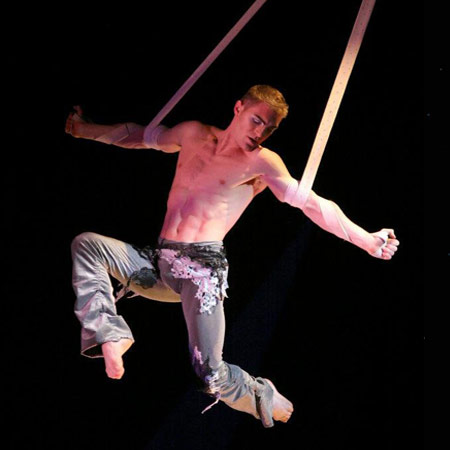 Aerial Straps Artist
Enjoy the elegant shapes and lines of this Aerial Straps Artist
Will amaze audiences with his strength and grace
Is professionally trained in acrobatics, trampoline and minitramp
Has won multiple awards inc two 1st places in the Russian Championships
Based in Hamburg, Germany and available to perform at events worldwide
Aerial Straps Artist PHOTOS
Aerial Straps Artist Slava was born in the Russian city of Voronezh and originally trained in acrobatics, trampoline and double minitramp.
His skills have seen him compete all over the world and win several important titles, including two first places on Russian Championships, first place on Russian Cup and third place on European Championship in the team.
In 2003 he went to Cirque du Soleil for the general formation and from 2004-2006 performed an unique Trampoline act in "LaNouba".
An extremely disciplined and hard working artist, he currently works as a solo straps and handstand artist. He also coaches in different disciplines as acrobatics on the floor, trampoline and aerial.