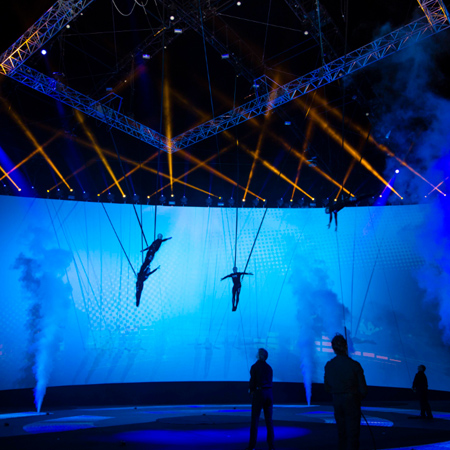 Aerial Stunt Show
Highly dynamic, talented and unique aerial performers
Dramatic and artistic choreography combined with music and lighting
Breathtaking aerial artistry guaranteed to impress
Have previously performed for BMW, Mini, Sony and Fujitsu
Based in Munich, Germany and available to perform at events worldwide
This outstanding show is a composition of artistry, athletic peak performance, music and remarkable lighting effects. Free fall, drive and extreme acceleration, in conjunction with physical virtuosity, are the striking features of this staggering show. The multi-disciplined and talented performers produce formidable shows with up to four artists, athletes, dancers and stuntmen that flip, turn and somersault across the stage in front of a giant LED screen.
Emphasis of each staging is placed on altitude and multidimensional space, the altitude of installation may vary from 9 m to 18 m, respectively and can be performed outside on a special free-standing rig if required!
Using groundbreaking and state-of-the-art techniques, the talented act aim at inventing and accomplishing formidable performances and extraordinary choreography of the highest quality.
• Invention and design of stagings for all types of events
• Creation of stereoscopic moving pictures
• Production of highly dynamic performances in different altitudes
• Planning and execution of computer-controlled technologies for staging purposes
• Execution of stunts in all kinds of action
This stunt group are anything but run-of-the-mill, their productions can be customised to suit individual needs and preferences; perfect for a corporate event, product launch, awards ceremony, sports event, opening and closing ceremonies and sports expos.
Mercedes
Fujitsu
Audi
Siemens
BMW
Sony
Lamborghini
Reebok
And many more
Mini