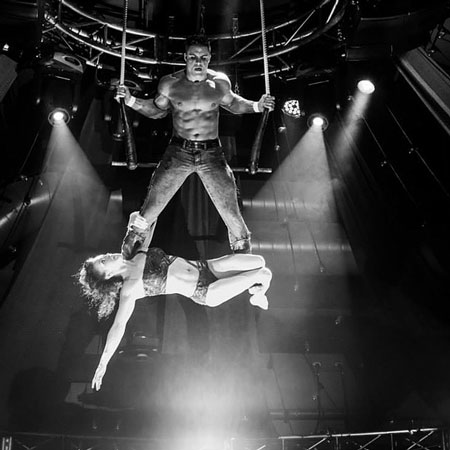 Aerial Trapeze Duo
Incredible trapeze duo will captivate audiences with their electrifying performances
Daring spins and gravity defying flips and balances make this trapeze act gripping, high octane entertainment
Married aerial acrobatics duo performs with real chemistry and passion in a sensual and intense routine
Have performed all over the world and won the 'Audience Favourite' and 'Best Overall Performance' Awards at the Aerial Acrobatic Arts Festival
Magnificent aerialist duo based in the USA and available worldwide
Aerial Trapeze Duo VIDEOS
Book our incredible trapeze duo for a stunning routine that will amaze guests at any event. Our magnificent aerial acrobatics duo deliver an unforgettable routine full of stunning acrobatic flips and balances that will have any audience spellbound. This intense and sensual trapeze act is perfect for a huge range of events and our talented duo have thrilled audiences all over the world with their daring, high-impact show.
Guests will marvel at the incredible display of strength, balance and precision in this aerial trapeze act as our duo spin, flip and balance in gravity defying positions and nail-biting lifts. When it comes to giving a truly captivating acrobatic display our aerialists are leagues above the competition.
This incredible trapeze duo are a husband and wife team with a passion for performing the best and most entertaining aerial trapeze routines for audiences around the USA and worldwide. The chemistry between our aerial acrobatics duo makes this a passionate and gripping act that will have guests hooked from start to finish. This nimble and beautiful trapeze act is perfect for cabaret shows, circuses, stage shows and clubs of all kinds.
This acclaimed aerialist duo have wowed audiences with their trapeze act as part of the prestigious Cirque de la Mer and at the Aerial Acrobatic Arts Festival where they won the Audience Favourite and Best Overall Performance Awards. Our incredible aerial acrobatics duo also performs a hypnotic and high octane aerial rope routine that offers a unique and jaw dropping spectacle.
Our multi talented duo can also perform an exciting roller skating act full of unbelievable spins and lifts. Book this incredible duo for a thrilling performance that promises to be the highlight of any event.
Scarlett Entertainment features an amazing selection of aerialists to amaze audiences worldwide.
To book our Aerial Trapeze Duo or another fabulous act contact the team.