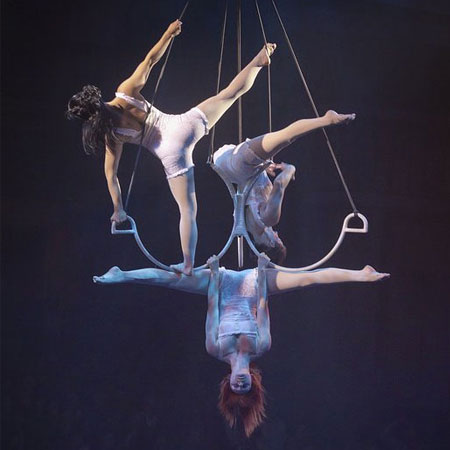 Aerial Trio Quebec
Graceful and exciting aerial act formed by three passionate artists
Aerial artistry to seduce, excite and entertain the audience
Elegant performances that are little out of the ordinary
Each Aerial Artist has over 10 years experience within their discipline
Based in Quebec and available to perform at events worldwide
Aerial Trio Quebec PHOTOS
This exciting Quebec based aerial trio includes three professional and experienced aerial artists, passionate about their skills. They use alternative apparatus and different styles to differentiate themselves from other aerial acts.
The members have worked together for two years to provide elegant and graceful performances that are something a little out of the ordinary, however have all been studying and working within their disciplines for over 10 years.
The founder, Camille studied dance and theatre performance for 5 years and likes to play characters to seduce, excite and entertain the audience.
Thanks to their shared experience in various disciplines they now have a show to perform that will certainly charm and excite audiences all over the world. The trio has won various competitions and Galas since joining 2 years ago and has performed at both private and corporate entertainment events.