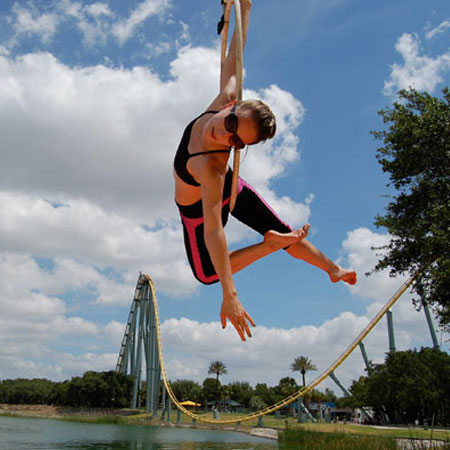 Aerialist: Julia
A stunningly visual & exciting way to light up any corporate event
Can perform using aerial silks and aerial hoop
Worked for national & international companies
Performed as aerialist on lyra, harness, & bungee for SeaWorld show "Viva"
Based in Texas, USA and available to perform at events Worldwide
Whether dancing on the sides of buildings or performing on a stage, Julia expansive artistic career has encompassed a diverse array of styles, companies, and locations.  A wide collection of modern dance companies employed her talents, such as Sharir + Bustamante Danceworks, Ariel Dance Theater, Ballet East Dance Theater, Komo Danceworks, Release Motion Dance Project, and the site-specific aerial dance company, Blue Lapis Light. 
As a freelancing aerialist, Julia performed across Texas and was discovered by World Entertainment Services in 2009. She served as their aerialist on lyra, harness, and bungee for the show "Viva!" at SeaWorld San Antonio. Soon after, she was promoted to the principal aerialist roll in the original cast of "Azul," the new acrobatic/whale and dolphin show at SeaWorld San Antonio. Julia currently performs her innovative aerial act on silks attached to a lyra above a pool of synchronized swimmers, divers, and marine mammals.