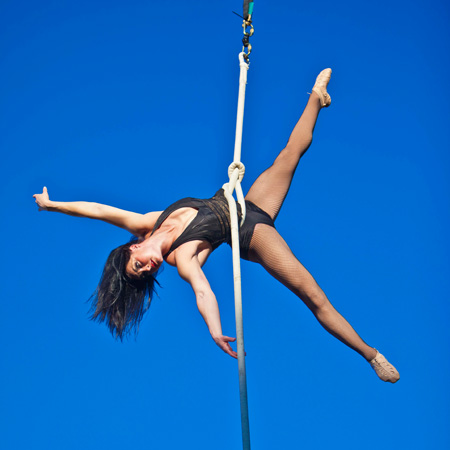 Aerialist Lisanna
Thrilling act that embodies her compelling movements & vivacious energy
Leaves audiences in awe of her effortless climbs, drops, spins, acrobatics
Can also perform aerial tissu, Chinese poles, cloud swing, aerial harness
Performed at various galas, currently with Cirque Du Soleil's Light
Based in Las Vegas & available to perform at events worldwide
Dynamic Corde Lisse (Aerial Rope) artist Lisanna, performs a thrilling and powerful act that embodies her compelling movements and vivacious energy. She will leave audiences in awe of her effortless climbs, drops, spins, and artistic display of strength and sensuality.
With an international and collegiate background in artistic gymnastics, Lisanna's strong technique and talent has led her to perform numerous disciplines in addition to her solo rope act including Chinese pole, aerial silks, cerceaux, pole dance, cloud swing, tumbling, harness work, dance, and stunt acrobatics in shows with the San Diego Symphony Orchestra, Cirque Italia, Sea World San Diego, famed singer Meatloaf, at various galas throughout the country, and currently with Cirque Du Soleil's Light. 
Her ever-present ambition to perform and progress will continue to drive her artistic talents forward with many years of performances to come.