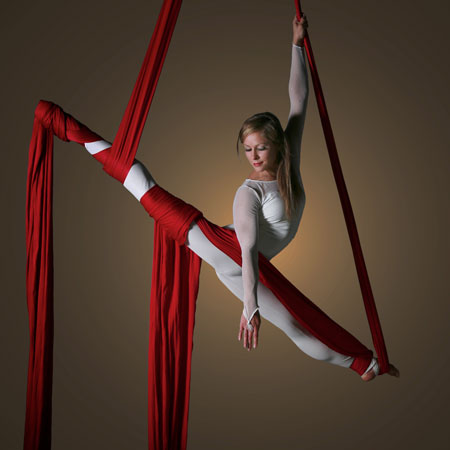 Aerialist London
Add a unique and unforgettable spectacular aerial act to your event
Offers aerial hoop and silk performances for any occasion
Can create bespoke solo, duo or group performances
Previous clients incl Cirque du Soleil, Ferrari, Sky TV, Honda...
Based in London & available to perform at events worldwide
Elegant and stylish Aerial Performances for your event!
Add a unique and unforgettable spectacular aerial act to your event! Wedding, corporate conference, product launch, festival, private party or gala dinner- no matter what event, this aerial performer is guaranteed entertainment of the finest kind!
Lilli is one of London's leading, professionally trained aerial performers offering bespoke aerial hoop and silk performances for any occasion.  She has developed her Aerial Skills from a young age and started her professional circus career in 2007 after graduating from The Circus Space in London.
Many years of performing experience have taken her all over the world and previous clients include Cirque du Soleil, Ferrari, HerbaLife, Sky TV, Honda, English National Opera, Universal Studios, Rugby Super League and many more.
Lilli works with a range of well established aerial performers and is happy to create bespoke Solo, Duo or Group performances for high class events all over the world.
Aerial Silks
Lillis' silks act is beautifully choreographed, combining graceful poses and breathtaking drops.  She spellbinds her audience while effortlessly moving high up in the air.
Aerial Hoop
In her aerial hoop act Dream Lilli creates a harmonic atmosphere and beautiful imagery.  While she is spinning on her hoop she twists her body into original shapes, combining flexibility and elegance.
Lilli and Sara
Since 2007 Lilli and Sara have been successfully performing duo hoop and synchronised silk routines to audiences throughout the world.
The combination of Lilli and Sara's work results in perfect harmony and brings out an expressive and personal style in the air. As performers they are inventive, graceful and enjoyable to watch.
M&IT Awards Battersea Evolution London 2013
Indian Wedding Celebration Mumbai 2013
Honda Celtic Manor Viva Aerial Silks Show Wales 2012
Herbalife Extravaganza Barcelona Spain 2012
Science Museum London Exhibition Opening London 2012
SAP/Cirque Du Soleil Dream Engine Maui Hawaii 2012
Diageo New Years Party Natural History Museum London 2011
Ötztaler Radmarathon Sölden Austria 2010
Wedding Celebration Dehli India 2010
Lindley Hall Christmas Galas London 2009
Railway Ball London 2009
Best Company Award Dinner London 2009
Akzo Nobel Amsterdam Holland 2008
Mercedes Benz World Towcester 2007
Festivals
Riga City Festival Riga Latvia 2012
Festiwal Sztukmistrzow Lublin Poland 2010
Festival Sul Filo Del Circo Grugliasco Italy 2009
MS Deutschland Das Traumschiff 'Grosse Afrika Reise' 2012
Vlaamse Opera Antwerp Ghent Belgium L'amour De Loin directed by Daniele Finzi Pasca 2010
Halikarnas Bodrum Turkey 2012
Proud London 2011
Galas/ Events
Indian Wedding Celebration Ahmedabad 2013
Trunkwell House Christmas Parties Reading 2012
Rugby Super League Grand Final Manchester 2012
Euston Park Endurance Race Opening Ceremony Thetford  2012
Indian Wedding Celebration Mauritius 2012
Armani Fresh Face London 2011
Pro Retail Gala Dinner Telford 2010
Discovery Museum Newcastle Gala Dinner Newcastle 2010
Sylvester Ball Dresden Germany 2009/2010
LSO St. Lukes Christams Gala London 2009
HAC Summerball London 2009
Arc 2008 London 2008
St. Andrews Fashion Show St. Andrews Schottland 2008
Piccadilly Circus Circus London 2012
CampBestival Dorset 2012
Sol Y Circo Sylt Germany 2009
Bajazzo Artist Festivals Dahme Büsum Scharbeuz Burg Cuxhaven Germany 2008/09/10
Cruises
MSC Armonia Variety Shows Mediterranean Sea 2008
Opera
English National Opera L'amour De Loin London 2009
Nightclubs
Proud Camden London 2011
AKA London 2008
Canon Awards Ceremony 2013 Abu Dhabi 2013