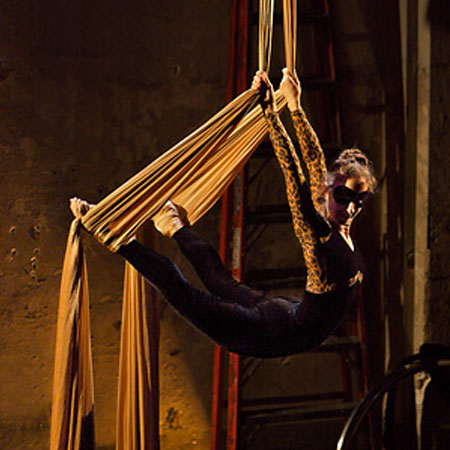 Aerialist Michelle
Cirque style Aerial Acrobat- performed across the World
WOW Factor Act - Makes the audience forget the heaviness of gravity
Emotionally & spiritually uplifting- Always tasteful, even when passionate
Previous performances inc Dallas Cowboys stadium & the Joyce Theatre
Based in New York, USA and available to perform at events Worldwide
Aerialist Michelle PHOTOS
Aerialist and Acrobat Michelle is available as an aerial circus art performer, or as a choreographer of aerial circus acts. New acts can be created in a theatrical style, or a traditional circus style. Or, you can select and/or modify an existing act.
Current acts include:
Meditation - solo Silks - Serene ascension into the sky
Aerial Yoga/Unnata - solo Hammock - Spinning contortion
Niiswi - male/female duo Rope Loop - Mirror images and partnering tricks
Buttobi - solo Silks - Displaying cat-like reflexes and flexibility
Solo Again - solo Double Rope Loop - Interplay between two levels of Rope Loops
Michelle has been a New York City artist, dancer and performer for the past 20 years. She has always enjoyed participating in the uncommon side of the performance and entertainment world, allowing her to explore a wide range of movement and performance techniques. During her career, Michelle has trained in and performed Aerial Acrobatics, Corporeal Mime, Butoh, Contact Improvisational Dance, and Yoga. 
 
She has performed in such unique and diverse locations as the airport in El Salvador, Central America, the Brooklyn Bridge Anchorage (Brooklyn, NY), the Joyce Theatre (New York), and the Dallas Cowboys stadium in Dallas, TX.