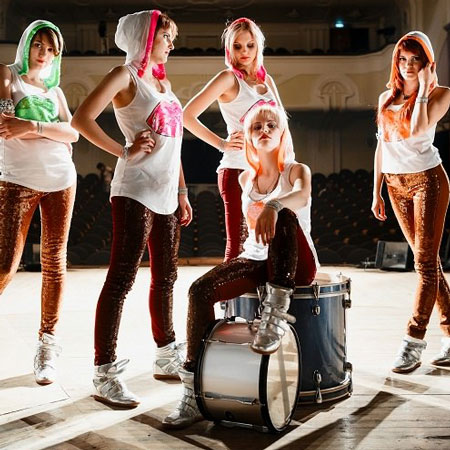 All Girl Drumming Band
Fantastic high energy and very versatile all girl drumming band
Infectious rhythms, pounding beats and super stage presence
Repertoire covers multiple musical styles including pop and Bollywood music
Great stage appearance and many costume variations available
Based in Russia and available for events all over the world
All Girl Drumming Band PHOTOS
Book the stunning all girl drumming band to impress your guests with pounding beats, high energy stage charisma and fun routines. This drum group are a proper powerhouse of female percussionists delivering very exciting live music performances 
With a vivacious stage presence, model good looks, wardrobes full of fancy stage wear and huge percussive talents, the all girl drumming band are an excellent choice for a wide variety of events guaranteeing that audiences will be wowed by their live music stage show. The female percussionists are able to tailor their performance for different events types and themes ranging from street festival right up to high-end corporate shows. 
The drum group offers high impact live music shows with fun routines and clever choreographies. The female percussionists can perform with just the drums, as you see after thirty seconds in the first video above, or along to fully produced backing tracks. They have an extensive repertoire of songs that ranges from pop and dance to Asian and Bollywood as well as a few classic songs thrown in too. Whatever your preference, this drum group's infectious rhythms will have guests' feet tapping and hips shaking in no time at all.
If you're looking for a group of highly versatile and very talented female percussionists to deliver high energy live music at your next event or party, don't hesitate to contact our experts at Scarlett Entertainment who will be more than happy to book this all girl drumming group.