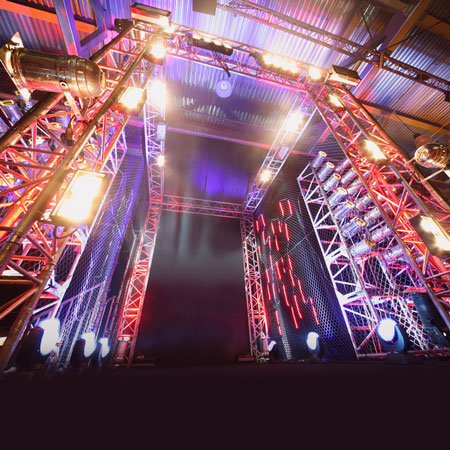 AV Hire Berlin
Top of the range AV hire company
High-spec range of lighting, audio and stage equipment
Can offer everything necessary for an event
Experience with corporate events, concerts, weddings, festivals and more
Based in Berlin and available all over Germany
AV Hire Berlin offers you lighting hire, audio hire and staging hire for all event types. This AV hire company regularly provides equipment for corporate events, weddings, concerts, fashion shows, private parties and open-air events. From small intimate occasion to huge arena sized events, this lighting hire and audio hire company has you covered.
AV Hire Berlin aims to supply you with all your technical requirements from friendly and professional staff ensuring a smooth running of your event and the best possible success. They only use and provide the highest quality products and have a service that matches that standard. Their services include, but are not limited to, the following:
Lighting Hire: 
• Special FX
• Dimmer 
• Moving Lights 
• Scanner
• Headlights / tracking lights 
• Strobe
• Music-controlled disco effects 
• Mirror ball 
• LED spotlight 
• PAR spotlight
• Light controls
Audio Hire: (brands such as : Turbosound, Soundcraft, Shure, Klarktechnik and C-Audio)
• Power Amplifiers 
• Mixers
• PA systems 
• Monitors
• Wireless Microphones
• Pioneer DJ Systems
Video Technology Hire:
•Projectors with standard or full HD resolution up to 20'000 ANSI lumens
• Screens for projection
• TFT, LCD Monitors & Plasma Displays 17 "- 103"
• State-of-the-art LED screens for indoor and outdoor applications
• LED curtain, e.g. G-LEC phantom 30 and phantom 60
• Recording and playback devices for all formats
• Live transmissions and recordings with cameras, complete video registries
• Videoconferencing, satellite communication
Stage Hire:
• Stage platforms 
• Stage frames
• Stairs
• Global truss
• Rigging Accessories 
• Tower systems 
• Truss cover
Contact our team of entertainment experts here at Scarlett Entertainment to discuss using AV Hire Berlin for your upcoming event. They will be more than happy to discuss the options available.