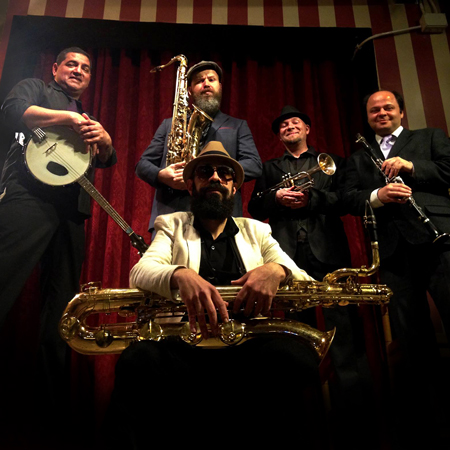 Barcelona Dixieland Band
Multi-member jazz band specialising in Dixieland and New Orleans style from 1920's and 30s
Fully acoustic band doesn't need any amplification the perform, just like in the old days
Customisable line-ups can be tailored for an event requiring a smaller group
Excellent live music for weddings, special events, city centre festivals, and private parties
Based in Barcelona, this jazz band is available for events throughout Spain and Europe
Barcelona Dixieland Band VIDEOS
Our Barcelona Dixieland Band performs the kind of joyful live music that you would expect to hear on the streets of New Orleans in the early 20th century. Keeping that style of live music alive, this brilliant acoustic jazz band stays true to the roots of this jazz music and performs each and every song with passion. 
This multi-member Barcelona Dixieland Band is made up of some extraordinary Spanish musicians. They have a variety of flexible line-ups from trios to sextets and a variety of instrumentation to choose from with the most classics instruments for this genre including banjo, washboard and clarinet through top double bass, trumpet and saxophone. The group will put together the best collection of musicians together to provide live music at your event. 
The Barcelona-based acoustic jazz band specialises in Dixieland and New Orleans style from 1920's and 30s. This style of vibrant jazz music creates a great atmosphere with positive vibes and is extremely pleasant for any kind of occasion. Just like in the old days, this is a fully acoustic jazz band and requires no amplification. Therefore, they are able to perform anywhere they like. They can be booked for indoor and outdoor events. 
The Barcelona Dixieland Band is a fantastic choice of live music for weddings, special events, city centre festivals, private parties, drinks receptions and much more. They have a lot of experience busking on the streets of Barcelona playing in bars as well as many private events. 
If you would like to book this excellent Dixieland band in Spain or in Europe, please contact us at Scarlett Entertainment.