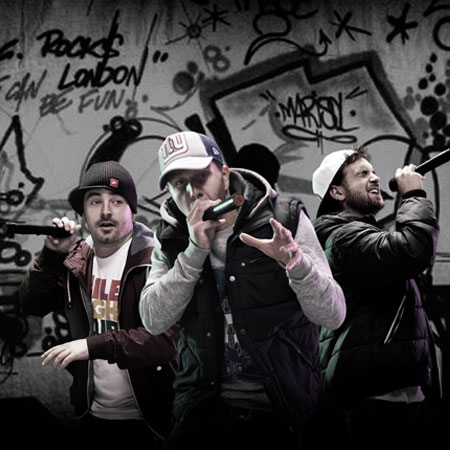 Beatbox Trio
Bloxed Beats, our epic beatboxing trio, produce unique high-octane performances with nothing but their vocals and microphones!
Performed alongside Goldie Looking Chain and US Hip Hop legends, Ugly Duckling delivering explosive, high-energy entertainment
Able to accommodate song requests and boast a diverse repertoire featuring Daft Punk, Robin Thicke and Pharrell Williams
Bloxed Beat's truly original shows have impressed Sky, Formula 1, Microsoft, Carling, BBC, and many more
The versatile trio also host interactive workshops, perform a surprise waiter act, and offer a brand new exclusive Rap Pack show!
This Beatbox group consists of three uniquely talented musicians, Sholto, Steve and Phil, who perform a huge array of covers cleverly mixing in and out of tracks in a high octane performance using only three microphones. Renowned for their energetic/animated stage presence, combined with jaw-dropping talent.
The Beatbox Trio deliver one of the most exciting, mind-blowing live performances around, covering such tracks as Daft Punk's - 'Get Lucky', Robin Thicke's - 'Blurred Lines' and Pharrell Williams - 'Happy' to Beatbox perfection.
Forming in 2010, the trio has come from humble garage band practice to touring the UK. They have toured with Goldie Looking Chain on their 10th-anniversary tour, Supported US Hip Hop Legends Ugly Duckling, Performed for the NFL at Wembley Stadium, Worked with the Ellen Degeneres Show US and not to mention performing live with the one and only Kiesza!
The Beatbox Trio has also been admired by the likes of Dizzee Rascal, Radio 1 DJ Trevor Nelson, Jamie Cullum, Alex Clare, Example and most recently Kiesza for covering her smash hit 'Hideaway'
Our phenomenal performers can also offer beatboxing workshops for groups of four and up to 10 people, so if you're interested in booking a group activity that involves team-building through music, their beatboxing lessons are the team bonding experience you are looking for.
They are currently preparing to embark on their biggest year to date and can guarantee one of the most entertaining shows of the year!
Top Tip:
Also able to offer world-class DJ sets, add live DJs couple with beatbox performances and bespoke keywords, logos or branding displayed as part of the DJ set up.
To book this exceptional Beatbox Trio, contact us today and make an enquiry. Our in-house team of entertainment experts will be delighted to give you further details on their act and guide you through the booking process.
Alex Clare – Too Close
Aloe Blacc – Need A Dollar
Azealia Banks - 212
Daft Punk – Get Lucky
Dance – Various Renditions 
Dizzee Rascal – Bonkers
Drum N Bass – Various Renditions 
Jason Derulo – Talk Dirty
Jonestown - Sweet Thing (Dance)
Kiesza – Hideaway
Marvin Gaye – Grapevine (Drum 'n' Bass)
Pharrell – Happy
Punjabi Mc – Mundian To Bach Ke
Robin Thicke – Blurred Lines
Rudimental – Waiting All Night
Sigma – Nobody To Love
Stevie Wonder - Master Blaster (Dance)
Studio B - I See Girls
Swedish House Mafia
White Stripes – 7 Nation Army
MTV
Bournemouth 7's Festival
Orange/Intel
Soundwave Festival Croatia
Sky1
Nottingham Arena
Plus many more…
NFL London
Old Trafford
Heineken
Manchester G-Mex
HSCB
Hackney Empire
Volvic
Proud Camden
Microsoft
Leeds Festival
" You boys are on another level "

ALEX CLARE
" Love these Beatboxers! "

KIESZA
" Nice Nice Nice! "

EXAMPLE
" One of the most impressive, if not the most impressive act we've ever had play! Mind Blowing! "

FAVERSHAM, LEEDS
" How have I not heard of these boys? That's the craziest thing I ever saw. "

THOMAS BELT, LEEDS UNI
" The way you switch from bass to falsetto pitch perfectly is unbelievable! "

JAMIE CULLUM
" I've never seen a crowd go that nuts, ever! Nice bunch of lads too!! "

GOLDIE LOOKIN CHAIN
" I saw you at Reading College, we we're absolutely blown away!! These guy's should be world famous. "

HANNAH F, READING UNI
" I can't believe you covered my track man - you SMACKED it!! "

DIZZIE RASCAL