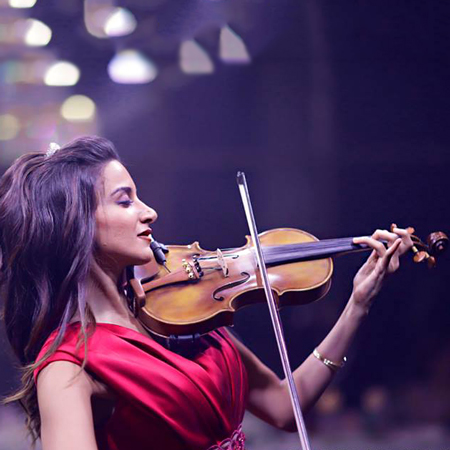 Beirut Female Violin Player
Young and talented female violinist who is perfect for classy and high-end events in the Middle East
Her unique musical style combines authentic Oriental styles with other music genres
Available solo, alongside a DJ or with a full backing band depending on the occasion
Experienced with special events, weddings and international performances in Egypt, Jordan, Qatar, Kuwait and Saudi Arabia
Located in Beirut, Lebanon, the violin player is available for events all over the world
Beirut Female Violin Player VIDEOS
Beirut Female Violin Player PHOTOS
This totally fabulous Lebanese violinist has been a very notable glamorous musician in the Middle East since a very young age. Our exceptional Beirut Female Violin Player has had many appearances at special events and high-end weddings as well as international performances in Egypt, Jordan, Qatar, Kuwait and Saudi Arabia. She has been an opening act for famous Arabic singers as well as the exclusive female violinist at the Nile Ritz Carlton in Cairo.
With years of experience behind her, our Beirut Female Violin Player is a very glamorous musician who has performed at every type of event and is especially good for classy and high-end occasions. If you are looking to book a violin player in Lebanon, you can guarantee a brilliant a sophisticated performance from this exceptional Lebanese musician.
The Beirut Female Violin Player has a unique musical style that combines authentic Oriental styles with other music genres. The female violinist performs solo along to backing tracks or with a DJ or backing band depending on budget. As she uses a wireless device, the female violinist is free to walk around as she performs which brings an upfront and personal element to the live performance. 
You book a violin player for any location around the world from our diverse roster of artists but this Lebanese violinist is a great choice for events in and around the Middle East. she offers a flexible approach to all events and will always customise her performance to suit the client needs. 
Contact us at Scarlett Entertainment to book our Beirut Female Violin Player for your event. 
Kempinski Summerland Beirut Hotel and Resort
LG
Mr. Karim Khayat Tahsin
Opera House Jordan
Royal wedding of HRH Princess Ouhoud and heir of MBC channels – King Abdulla Ben Abdul Aziz Castle Saudi Arabia
St. Regis Hotel Qatar
W Doha Hotel Qatar
Eric Tibusch" at Beirut Fashion Week event
Khayat Villa  Lebanon
Lechlade Festival United Kingdom
Nile Ritz Carlton Cairo Egypt
Porsche
Samsung
Tahya Masr organization's fundraising event – Al Masah Hotel Egypt
Intercontinental Hotels