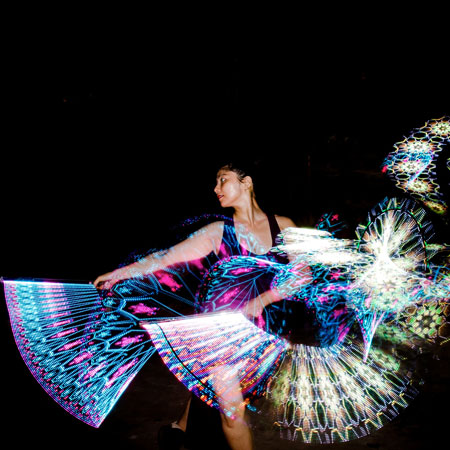 Berlin LED Performer
Multi-skilled LED performer that creates fascinating shows
Uses range of props such as fans, whips and digital poi
Customisable with branding, logos, colour schemes and more
Great for corporate clients, product launches and promotional events
Based in Berlin and available internationally
Berlin LED Performer PHOTOS
Light up your event with our Berlin LED Performer as she takes to the stage with an elegant display using a range of fascinating props coupled with elaborate and graceful LED dance routines. Her mesmerising LED show is extremely versatile and fully tailorable to suite the event type or space available. 
Originally from Tokyo, in Japan, our international LED performer is now based in Germany. She has a variety of exciting and usual acts including and LED show using a variety of interesting props. She can choreograph a visually captivating LED dance act with props such as LED fans, whips and digital poi. Our Berlin LED Performer will provide a custom-made show that can include company branding, logos, images or colour schemes into a personalised performance. 
Our Berlin LED Performer's flexible and customisable approach to LED dance entertainment makes her a brilliant choice for corporate clients, advertising, product launches and promotional events where she can create a unique experience on point with the company messaging or branding. 
Suitable for audiences of all ages, her visually stunning short LED show wows spectators with the bright colour combinations and dance routines. The LED performer is available for events all over the world and makes a great act for either an event entrance or finale. 
If you would like to find out more about the Berlin LED Performer and her LED dance show options, please contact our team at Scarlett Entertainment.