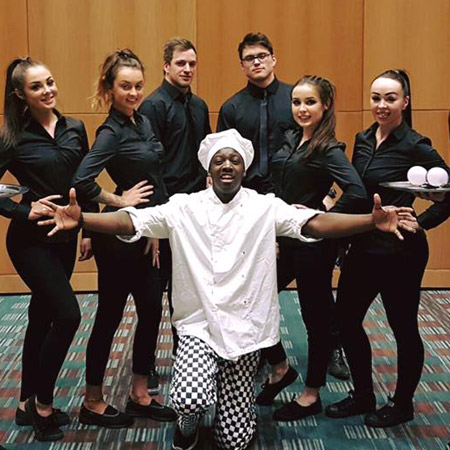 Bespoke Flashmob Dance Act
Flash mob performers provide the perfect dance entertainment to draw in large crowds.
Highly skilled surprise dancers will captivate, creating unforgettable memories.
Flash mob shows can help achieve greater brand awareness for your company and attract a large audiences at shopping centres and event openings.
Hire street dance shows to surprise crowds with unique dance entertainment tailored to your events requirements
Book flash mob to perform at events across the UK and worldwide.
Bespoke Flashmob Dance Act PHOTOS
Book our fantastic flash mob surprise dancers if you're looking to supply an endless wow factor to your event that will really make a lasting impression upon guests. Our flash mob performers are versatile and can provide a variety of differing dance entertainment options that include hip-hop dancers, glow acts, commercial dancers, acrobats, surprise singers, and so much more. Our one of a kind street dance shows are the perfect solution to captivate guests of all ages, creating an engaging atmosphere the moment they break into their flash mob personas.
Street dance shows are great for instilling an emotional connection with guests as they interact with these otherwise normal dancers unknowingly to them the spectacle their about to witness. Our fabulous bespoke flash mob dance act can tailor custom performances to suit any themes you might throw their way. Our performers are all highly skilled in dance and surprise acts with years of experience, performing at a variety of different events. Our professional dancers can also include themed costumes to help compliment their performance.
Our flash mob can feature a solo performer or a cast of multiple surprise dancers, each providing a different persona filled with memorable characteristic mannerisms that help pull off their performances, the options our dancers provide are truly endless. Performances can be held both indoors and outdoors, providing the best interactive entertainment for PR stunts, corporate events, weddings, engagement proposals, street parades, and so much more. Our performers wont disappoint, as they become the highlight of your event or gathering.
If you're interested in booking our amazing bespoke flash mob performers for your upcoming special occasion, get in contact with our amazing Scarlett Entertainment team members today so our act can begin creating an unforgettable dance entertainment for you. Our team members will help finalise booking details and answer any questions you might have.