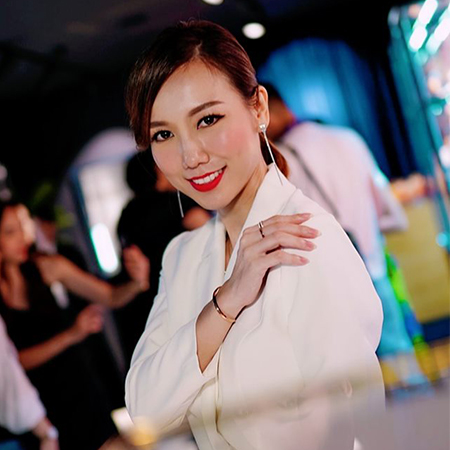 Bilingual MC Singapore
Bilingual event host, presenter and wedding emcee fluent in both Chinese and English
Host offers refreshingly smart and spontaneous performance to keep her audience informed, entertained and energised
Has presented for global giants such as IBM, Marc Jacobs, Sony and Adobe
Brings a refreshingly smart and spontaneous approach to events
Her sense of humour, youthful spirit and intellect appeal to all, leaving a long-lasting impression on audiences
Bilingual MC Singapore VIDEOS
Bilingual MC Singapore PHOTOS
As a bilingual event host, presenter and emcee, Sharlyn is one of the most diverse talents working in the live hosting niche today.
Her sense of humour, youthful spirit and natural beauty appeals to all, leaving a long-lasting impression on anyone she meets. Sharlyn has excellent command of both English and Mandarin, which she switches between effortlessly. Her extensive general knowledge is a powerful tool, which she brings into her shows to help audiences relate to her messages. Ensuring that she has conducted thorough research into events and products, you can rest assured that your event is getting the best representation possible.
Sharlyn's quick-wittedness in impromptu situations and fast response to sudden changes has won her the respect of many clients across the world. She has presented at events for global giants such as IBM, designer label Marc Jacobs and skincare label Bioessence.
She brings a refreshingly smart and spontaneous approach to anything she does and is creatively committed to keeping her audience informed, entertained and energised. With Sharlyn's effervescent and cheerful personality, it is practically impossible not to like this multi-talented lady.
If you're interested in booking this talented, sophisticated and bilingual MC, get in touch with us today and check her availability for your next event. 
Sony
DHL
Citibank
McAfe
And Many More
Kia
Samsung
Adobe
Guerlain
HP
IBM