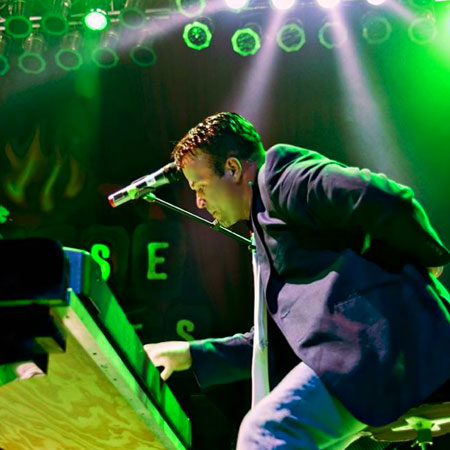 Billy Joel Tribute
Fantastic Billy Joel tribute show featuring Mike as the lead vocalist
Also available as a Solo tribute show to Billy Joel or with full live band
Elton John/ Billy Joel face-to-face show also available
Repertoire includes over 150 songs from Billy Joel, Elton John & others
Based in Charlotte, NC and available to perform worldwide
Billy Joel Tribute VIDEOS
Billy Joel Tribute PHOTOS
This Billy Joel Tribute is the complete premiere tribute to the music of the Piano Man himself, Billy Joel. Comprised of some of the best and most experienced musicians in the business, this 6 piece band brings together an authentic replication of Billy's timeless music, crowning it with soulful, spot on vocals that makes listening to a Billy Joel song so special. Led by lead vocalist Mike, you will be amazed that what you're seeing and hearing is actually a tribute band. We give you the Piano Man in his prime... energetic and passionate, the legendary SHOWMAN.
From his radio hits to classic b-sides, sprinkled with great songs from similar artists such as Elton John, Paul Macartney and others, it's everything you'll ever want in an evening out of great music. Available for corporate events,festivals, casinos, private affairs, and select venues.
This group are also touring as an Elton John/Billy Joel "Face-2-Face" Concert that features Ronnie "The Rocket Man" Smith of the famous Crocodile Rocks.  This knock-out show features 3 1/2 hrs of the best of both artists, full costumes, lights, visual arts.
Movin' Out - Billy Joel
Allentown - Billy Joel
My Life - Billy Joel
She's Always A Woman - Billy Joel
New York State Of Mind - Billy Joel
Honesty - Billy Joel
Vienna - Billy Joel
Pressure - Billy Joel
Summer Highland Falls - Billy Joel
Big Shot - Billy Joel
You May Be Right - Billy Joel
I'ts Still Rock And Roll To Me - Billy Joel
All For Leyna - Billy Joel
Miami 2017 - Billy Joel
River Of Dreams - Billy Joel
Keeping The Faith - Billy Joel
Ive Loved These Days - Billy Joel
Captain Jack - Billy Joel
Only The Good Die Young - Billy Joel
Scenes From An Italian Restaurant - Billy Joel
Piano Man - Billy Joel Souvenir - Billy Joel
Just The Way You Are - Billy Joel
Rosalinda's Eyes - Billy Joel
An Innocent Man - Billy Joel
Don't Ask Me Why - Billy Joel
She's Got A Way - Billy Joel
Goodnight Saigon - Billy Joel
Prelude / Angry Young Man - Billy Joel
Until The Night - Billy Joel
Maybe I'm Amazed - Paul Macartney
Back In The U.S.S.R. - The Beatles
Lido Shuffle - Boz Scaggs
Rosanna - Toto
Travelin' Prayer - Billy Joel
Stiletto - Billy Joel
Big Man On Mulberry Street - Billy Joel
The Ballad Of Billy The Kid - Billy Joel
Everybody Loves You Now - Billy Joel
Tiny Dancer - Elton John
Pinball Wizard - Elton John
Lucy In The Sky With Diamonds - Elton John
Rocket Man - Elton John
Your Song - Elton John
Candle In The Wind - Elton John
The Bitch Is Back - Elton John
Saturday Night's Alright For Fighting - Elton John
Honky Cat - Elton John
Funeral For A Friend/Love Lies Bleeding - Elton John
Sad Songs Say So Much - Elton John
I Guess Thats Why They Call It The Blues - Elton John
Philadelphia Freedom - Elton John
Dont Let The Sun Go Down On Me - Elton John
Bennie And The Jets - Elton John
Im Still Standing - Elton John
Daniel - Elton John
Go Round In Circles - Billy Preston
Say Goodbye To Hollywood - Billy Joel