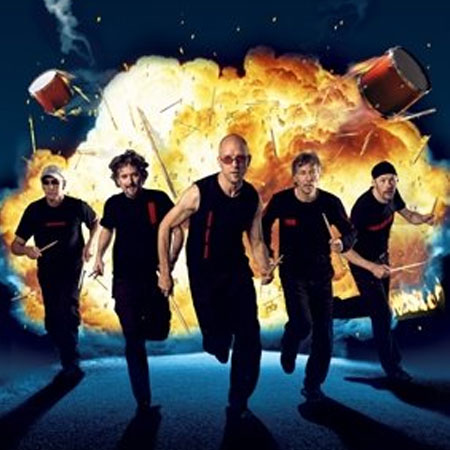 Drummer Boys
Unique & Dramatic corporate entertainment to WOW your guests!
Performed for high profile clients inc David Beckham, Audi, MTV & Sony
High energy pop/ rock drumming using huge drums, ladders & props
This group can tailor their show to include your company brand & products
Based in Munich, Germany and available to perform Worldwide
This act has performed for the likes of Audi, Microsoft, MTV, Sony, VW and for big name celebrities like David Beckham. As well as being an amazing visual spectacle, this talented group combines classical percussion with high energy pop/rock drumming.
These hugely talented and unique percussionists are the latest 'big thing' to emerge from the world of speciality 'wow factor' entertainment and they have truly made their mark when it comes to corporate entertainment.  A must see, this group of highly trained musicians are very popular for product launches, exhibition events and corporate functions, where the client wants to make an impact and leave a lasting impression!!
This amazing act performs using mighty drums, giant gongs, oil barrels, dustbins, aluminium step ladders and anything else they can use to produce a toe tapping beat.  In fact, these creative percussionists will create an original show according to the wishes and requirements of the client.  They are able to connect the audience to the product by using fitting items of the client manufacturer as percussive instruments or by creating special soundtracks with acoustic signs or logos, making this act an ideal choice for corporate functions.
Da Groove – drumming using mighty drums bongos snares dustbins
The Box – sitting on a box on stage which is then turned in to a complete drum set
Buckets – 4 x buckets 4 x drummers!
Clap Trap – body percussion
Bell Boom Bang – dance beats
Stompy – water drumming
Smokey Rumble – beats are made using tuned kettledrums
Rain maker – improvisation using Indian bongos and other international percussion instruments
A sample of this acts repertoire;
Marimba Jungle – pulsing beats – drumming duel with marimba and drums
Mystic – tam-tams gongs and Gregorian chants
Audience – discover the rhythm
Stixx – stick choreography
Carmina – fireworks on timpani mighty drums and giant gongs
Steps – 4 x step ladders 4 x drummers
Factory – industrial drumming on oil barrels
Harmony – choral rhythm and chill percussion
Alfa Romeo
Audi
Bosch
Commerzbank
Daimler-Chrysler
E-On
Fujitsu
Honda
Lufthansa
Mercedes
MTV
Nestle
O2
PriceWaterhouseCoopers
Siemens
Sony
Volvo
Wella
And many many more!!!
Accenture
Allianz
BMW
Compaq
Daewoo
DEKA Bank
EMS
Hewlett Packard
Kia
McDonalds
Microsoft
Mustang
Nokia
Opel
Renault
Skoda
Suzuki
VW
Yamaha
Adidas