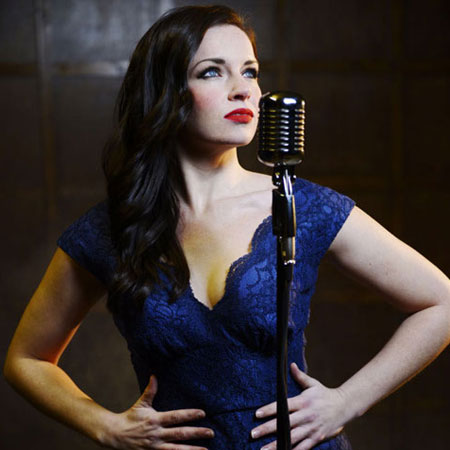 Blues & Jazz Solo Vocalist
Pays homage to the first ladies of jazz and blues with a selection of classics
Popular with corporate events and themed parties such as Hollywood, 30s and 40s
Billie Holiday songs include Stormy Weather and That Old Devil Called Love
Available with backing tracks, a pianist or a full live band
Based in the West Midlands and available to perform at events worldwide
Blues & Jazz Solo Vocalist VIDEOS
Blues & Jazz Solo Vocalist PHOTOS
Bringing the glitz and glamour of those old Hollywood movie stars, solo vocalist pays homage to the first ladies of Jazz and Blues with an unforgettable selection of classics such as:
Misty Blue, Cry Me a River, Feeling Good, Fever...and many more.
With a background in musical theatre and acting for over 13 years, she has performed in the West End and in theatres all over the UK and Europe. She's entertained the glitterati on the high seas aboard P&O's flagships and acted in various television dramas such as BBC's 'Land Girls' and 'Father Brown'. Your guests will be wowed and romanced with by her smoky, silky and sultry voice, and with such a wealth of professional experience you know that you're in the best hands possible. 
Our Blues and Jazz Solo Vocalist is available as a solo performer using top-quality backing tracks, with an accomplished pianist, as a jazz trio and as a full band. These different line-ups cater to various budgets and simultaneously have very different feels suited to different events and event types. Why not start your party off with a laid-back pianist and a voice act, while finishing up with the full band to go out with a bang?
As well as the classics, the Blues and Jazz Solo Vocalist offers songs from the last thirty years arranged in the style of the 20s and 30s, with All About That Bass and Careless Whisper swingin' all night long! 
Due to the customisation options available in terms of set-list and line-up, this act is extremely versatile with respect to events. Our act doesn't just offer your audiences music of the highest calibre, but as an actor is able to provide subtle theatricality that will keep your guests enthralled.  
So sit back and enjoy the sounds of Ella Fitzgerald, Billie Holiday, Dinah Washington, Peggy Lee, Etta James, Sarah Vaughan and many more.
This jazz and blues singer is perfect for corporate dinners, award ceremonies, cruise ship entertainment, media events and themed parties such as 30s, 40s or 50s, Hollywood, burlesque, Parisian and Great Gatsby themes.
To book this great act, contact one of our dedicated entertainment specialists today!
A mix of laid back Jazz and Blues perfect for creating a beautiful atmosphere during Dinner and Drinks Receptions.
Set List
Mad About The Boy- Dinah Washington.
Fever- Peggy Lee.
Everybody loves somebody- Dinah Washington
Dream a Little Dream- Doris Day
Bewitched Bothered and Bewildered- Ella Fitzgerald
Black Coffee- Sarah Vaughan
Cry Me a River- Julie London
How Lucky You are- The Andrews Sisters
Every time we say goodbye- Ella Fitzgerald
If I had You- Dina Washington
Summertime- Billie Holiday
Smile- Nat King Cole
September in the Rain- Julie London
Goodnight Sweetheart- Sarah Vaughan
Modern Pop Set List
A mix of Modern pop Dance floor fillers performed with a Jazz twist.
Set List
All about that Bass- Meghan Trainor
That Man- Caro Emerald
Fancy- Iggy Azalea
When I met you in the summer- Calvin Harris
Straight Up- Paula Abdul
I'm not the only one- Sam Smith
Call me maybe- Carly Rae Jepsen
Night like this- Caro Emerald
Girls just wanna have fun- Cindy Lauper
Like a Prayer- Madonna
No Digity- Blackstreet
Careless Whisper- George Michael
Lounge Set List
A touch of Swing and Lively Jazz to get the party started.
Set List
Why Don't you do right- Peggy Lee
I've got you under my skin- Frank Sinatra
I only a have eyes for you- Ella Fitzgerald
Sway- Rosemary Clooney
Slow Boat to China- Kay Starr
Perhaps Perhaps Perhaps-  Doris Day
I Wanna be loved by you- Marilyn Monroe
Night and Day- Ella Fitzgerald
L-O-V-E- Nat King Cole
I've got my love to keep me wam- Ella Fitzgerald
Get happy- Judy Garland
Cheek to Cheek- Ella Fitzgerald
Fly Me to the Moon- Julie London
Diamonds are a Girls best friend- Marilyn Monroe
The Best is yet to come- Nancy Wilson
I'm a Woman- Peggy Lee
Swing Set