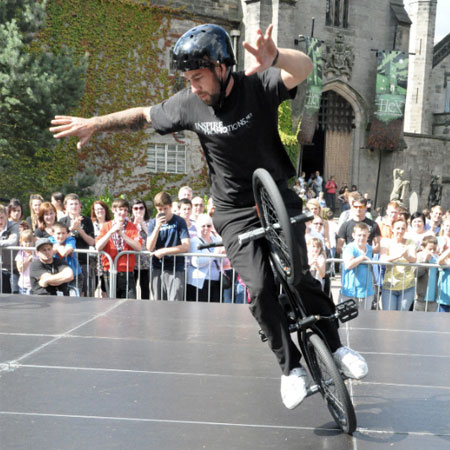 BMX Flatland Rider
Regarded as one of the most creative and original flatland riders today
2x UK Flatland Champion and Guinness World Record Holder
Offer workshops and educational shows for both adults and children
Can market brands through clothing, banners, videos and more
Based in the UK and available to perform at events worldwide
BMX Flatland Rider PHOTOS
Regarded as one of the most creative and original flatland riders today, Lee is a two times UK Flatland Champion and Guinness World Record holder and has competed and performed at the highest level at competitions all over the world. Revered by his peers for his dedication to pushing the boundaries, creating countless signature moves, he is renowned as one of the most creative and original riders out there.
His high-octane performances provide the perfect entertainment for a range of events - all that is required is a flat level area. Full of exciting stunts his shows create an electric atmosphere and will thrill audiences of all ages. The world record holder for the most number of no-handed spins on a BMX in one minute and waiting for confirmation that he is the world record holder for the world's first and only fully limbless BMX flatland rolling move, Lee creates an unbelievable show that spectators will never forget!
His performances can be adapted to suit your specific needs and are a fantastic way to promote or advertise a brand or company. Brands can be displayed on clothing, stickers, banners and handouts as well as being promoted via videos and vocally endorsed. His show can become an effective marketing tool for your company or brand.
In addition to his specialised performances, Lee has also been working for nearly 10 years performing educational shows at schools across the country. His shows are designed to grab children's attention with amazing bike tricks while delivering a positive message through an inspirational talk that encourages children to stay healthy and active through bike riding and also teaches them about road safety. He can also provide workshops.
To find out more contact our team of Entertainment Experts.